Today I'm here to share what I know about a dating site called Adult Hook Ups. They make some crazy claims on their site and I had to dive in just to find out if this was legit or not. I've covered literally everything I know about the site after combing the entire website top to bottom, inside and out. Let this review serve as your official Yelp hook-up report or something that that.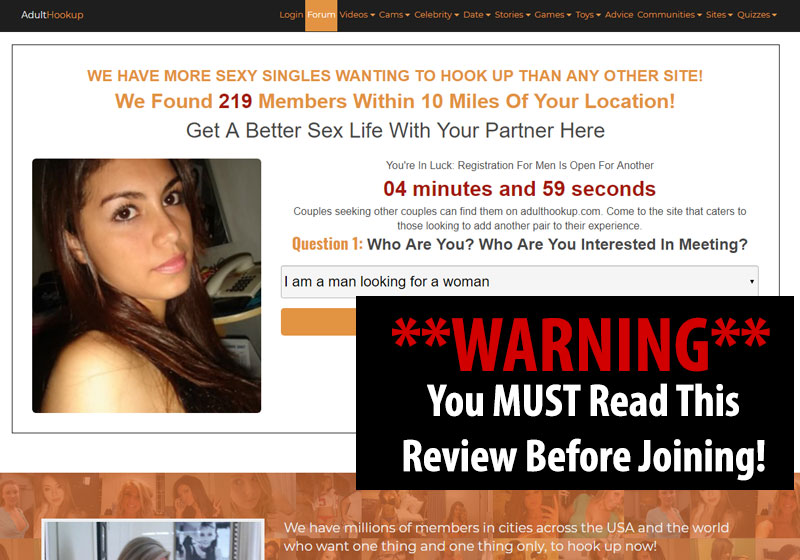 My Adult Hook Up Report Reveals Everything
The internet is a vast and populated place. The entire world is able to use it and create sites for the rest of the world to visit. That's why it's never really surprising when you come across two sites with similar names. A lot of times it's just a coincidence, that not in the case of Adult Hook Up and Adult Hook Ups. It's quite the opposite, actually.
Both of the sites are owned by the same company. In fact, they both happen to be the exact same site.
On top of that, both sites are running the same exact scam. The owners created both sites to get as many people as they possibly could within their reach. Then they hit them with some of the most common scams on the internet. If you want to avoid the scams, you should avoid the sites.
Now, I'm not going to just stop right there. I've got lots more to share with you about this site and what it entails…
They Lie Over And Over Again
As you're signing up for Adult Hook Up, you're told at least two or three times that your membership is totally free. That's why it's so odd that they still need your credit card information to let you in. They tell you that it's to confirm your identity, but that's just a blatant lie.
All you have to do is imagine a scam artist with a waxed and twirled mustache telling you that while his eyes nervously shift back and forth. That's basically the most accurate image for this site. What's really happening is that you're being tricked out of your money.
Read The Fine Print
The fine print on the signup page tells you everything you need to know. There's a wall of tiny text on the left side of the screen. That's where the scam is happening. It's telling you that you're agreeing to be charged for Videoz.com.
That's a porn site for anyone not in the know.
Moreover, it's a very expensive porn site. You're going to be getting charged every single month until you figure out what's happening and cancel it. The text is meant to be overlooked and you have to actively decline the offer. That's just the first scam.
They Pay People To Talk To You
Then we come to Adult Hook Up itself. They're not done scamming you yet. They need you to stick around so they can get as much money out of you as possible. This scam is coming in the form of fake women.
TONS!
Yes, tons of fake profiles have been created with bought or stolen pictures. These profiles don't just sit around, though. The site pays people to pose as the women they've created and talk to you. It makes the conversation just slightly more believable.
Conclusion: Adult Hook Up Is Just The Worst
Do yourself a favor and stay as far away from Adult Hook Up as you can. You'll be tricked into paying for a porn site and you'll never talk to a real woman. It's all a waste of time and money. If you're looking to bang, it's not going to likely happen with this hook-up site. You really need to give Instabang a shot if you want to make any headway with online dating. Don't try it just yet, read my review of the Instabang app before joining.