Today I'm taking the time out of my busy day to help educate you about some dating scam that I recently came across. I was browsing the web and came to a site called JustBang.com. Now, it sounds super inviting and if it were legit then it most definitely would be. However, this site simply isn't what you think it is. It's a rather unfortunate thing but many dating sites on the web are completely fake. This is the sad truth about things but lucky for you, I'm here to expose these guys for what they're doing!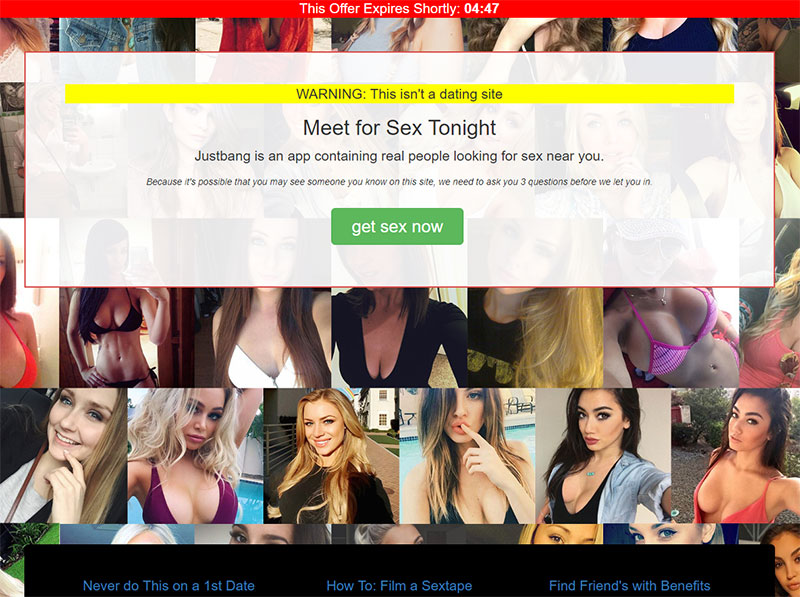 JustBang.com Full Site Analysis (Read Before Joining)
The first thing I'll cover is the actual site layout and what you see when you first land on the site. You'll quickly notice that once you land on justbang.com that there is a ticker at the top. They put this timer in to make you think that the offer only lasts for a short period of time. If you let the timer count all the way down, you'll notice that nothing happens. This is a marketing tactics trying to get you to take action.
Take a close look at the yellow "Warning" message. You will notice that the site claims that it "Isn't a dating site." They instead claim to be a dating app that contains real people looking to have sex with other local people. Truth is, that's not the case at all!
You'll also notice that there are lots of photos of girls on the homepage. Do not be fooled by these hot images. None of the girls shown are real members. In fact, they are all likely photos that have been ripped from social media profiles across the internet.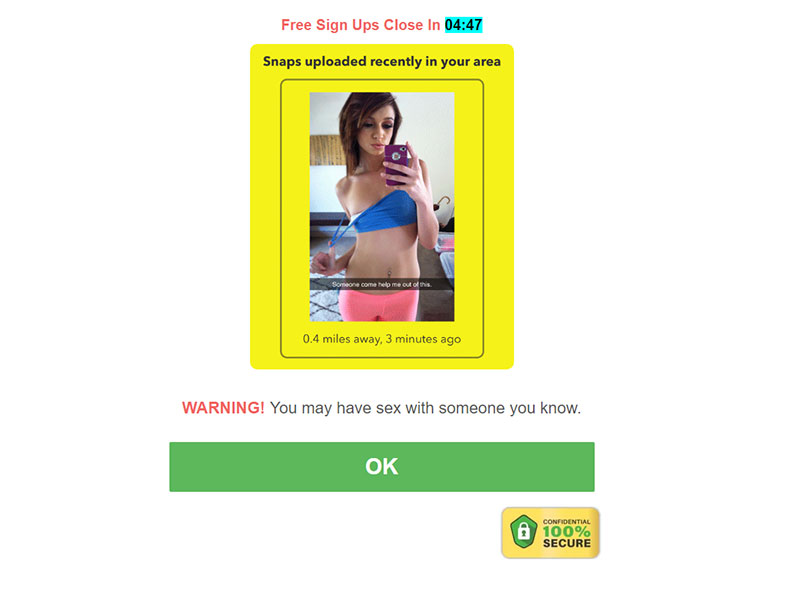 The Shady Signup Process
One thing I want to mention about the Justbang.com website is that the signup process is complete crap. They try and feed you a handful of questions to see if you're qualified to join the site. The truth is that regardless of how you answer these questions, you'll be prompted to join every single time. I went through the questionnaire more than a dozen times and the results were the same one after another.
Eventually, you'll end up on a page that looks something like the screen below. This is where the site asks you to enter your email address. The reasons they want this information is to throw a ton of dating offers at you via email. They claim they need it to stop fake profile sign ups but that's completely false.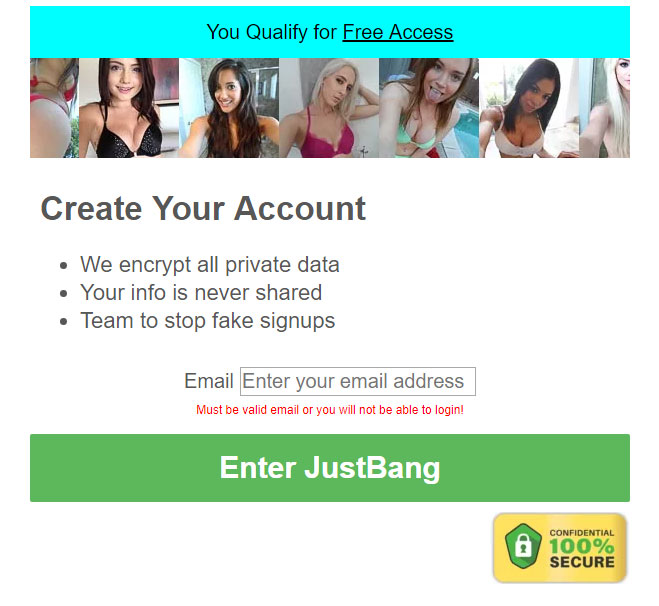 Redirects In Place
Now once you submit your email address, you are quickly redirected to another site called JustBangDates.com. Make no mistake about it. This is, in fact, a completely different website and they definitely incorporate the use of fake profiles in their member's area.
The fake users are known as "Love Stars" and they will never meet you, connect with you via video, nor will you have sex with them ever. They do not really exist.
There are plenty of other things I can say about the Justbangdates.com website. Aside from the fact that Nautell Capital Ltd owns and operates this site as well as many others that scam people, it's just one that you want to avoid. Based on some of the reviews that I've read on the company alone I think I'd stay far away from it as possible. They will email you constantly to get you to upgrade. Don't be surprised if they IM you and even reach out to you video recorded video or something. All they want is your money and I can promise that you will not bang anyone using this site. There's no way in hell that I can ever suggest using this. It totally sucks more than you'll ever realize.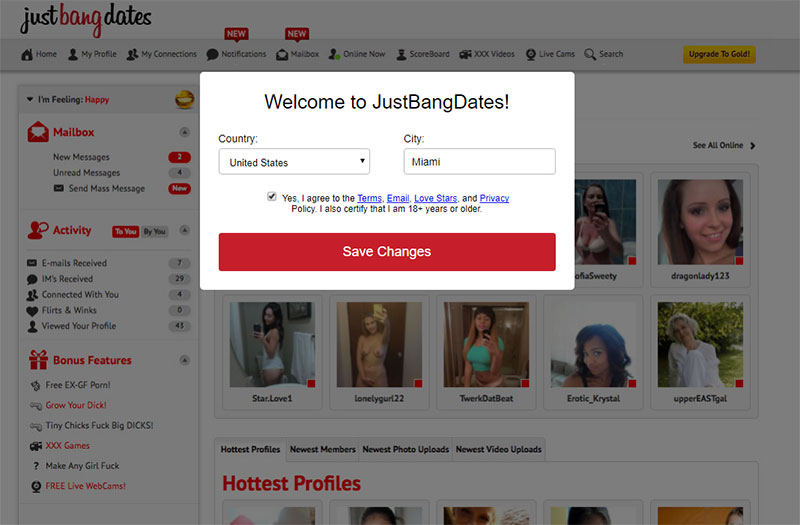 Conclusion JustBang.com Will Never Help You Bang
I think I've proven my point here that the site simply doesn't work the way they claim. Instead, Just Bang is a marketing site that attempts to get people signing up for another dating site out there which incorporates fake profiles into their services. None of this is going to help you get laid. NEVER. If you want to use a site that works, then check out the homepage and join the one I use daily.
Other shady dating reviews:
Meetbang.com – Everything I Know About It Right Here