Summary: This article discusses all the ways that you can find sex instantly in today's world. I discuss the different types of casual sex relationships that people have, how to find casual sex partners online fast, what to consider when making a choice, and more. Keep reading for the scoop!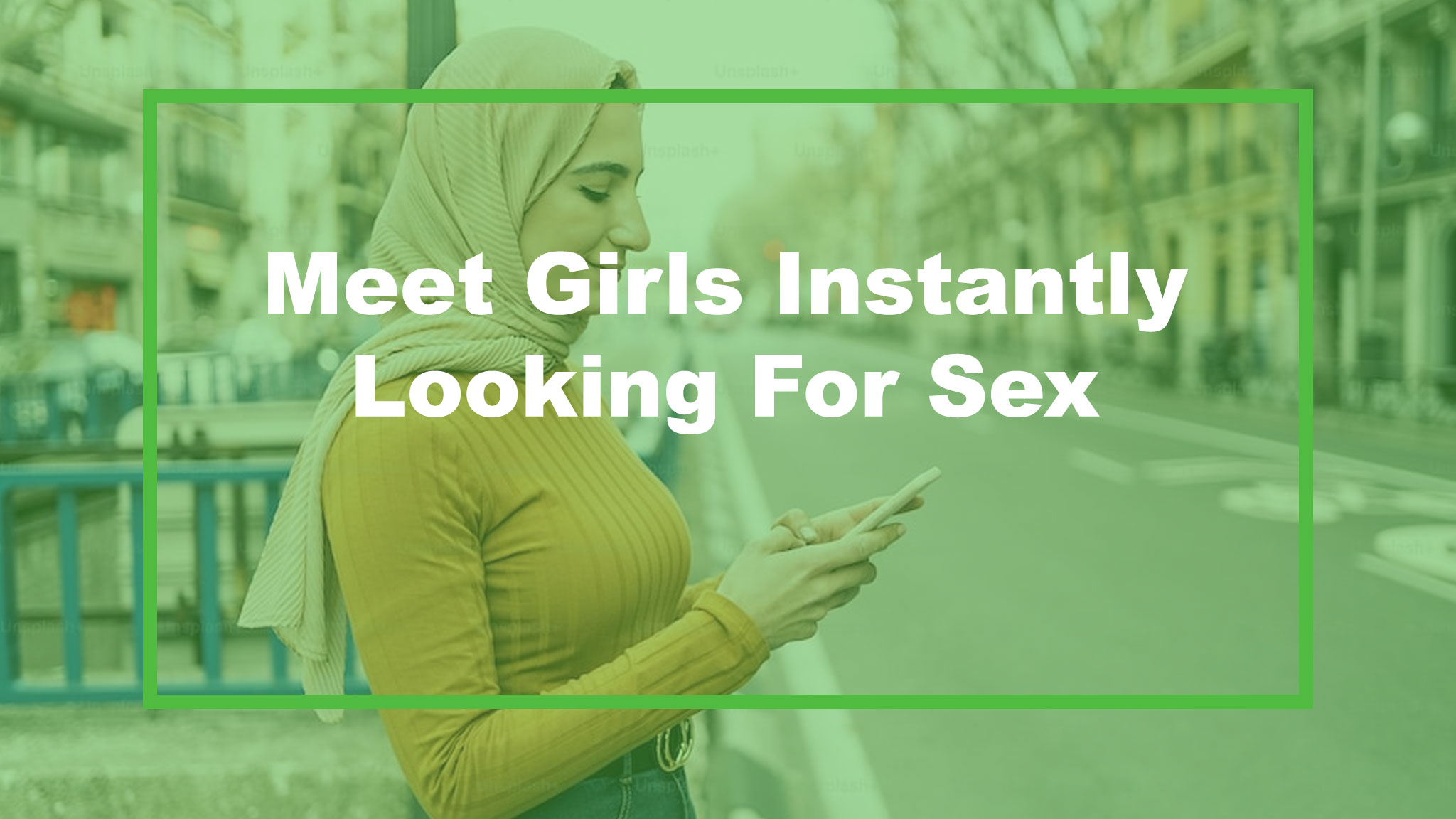 My Guide On Finding Casual Sex Partners In An Instant
While our digital era has brought about increased openness and acceptance towards casual sex, the quest for casual partners on online dating sites remains as challenging as finding the elusive Holy Grail. Sure, there are platforms like Instabang, Adult Friend Finder, GetItON, and Passion.com, where you can seek no-strings-attached encounters. However, merely logging into these self-proclaimed hookup sites offers no guarantee that your sexual desires will be fulfilled. It's a frustrating irony: you yearn for a straightforward and hassle-free sexual encounter, like a one-night stand, yet achieving such an arrangement proves to be a tantalizing endeavor, regardless of your efforts.
Now, this isn't to say that interested women aren't out there. Not everyone seeks a long-term relationship. In fact, countless attractive and diverse singles, including single women, are actively present on hookup sites at this very moment. However, creating a profile and browsing through potential matches isn't sufficient. Interacting, showing interest, exchanging information, and engaging in conversations are still necessary steps.
Moreover, the anonymity provided by digital screens often emboldens users to express interest in casual encounters and hookups, even if they have no intention of following through. This phenomenon is even more pronounced among women, who may face societal shaming for expressing such desires in person. Consequently, they might feel more comfortable seeking potential partners online or through dating apps. This leads us to ponder the question: What precisely constitutes casual sex?
The term "casual sex" is frequently thrown around in online discussions, accompanied by promises of nearby singles seeking no-strings-attached action. The underlying idea remains consistent: everyone desires sexual pleasure, while committed relationships appear complicated. And contrary to what pessimists may argue, these notions hold some truth.
But what does casual sex truly entail?
Where do we draw the line between casual sex and its antithesis—serious sex, one could say? And how did this concept emerge? Let's delve into these intricacies.
During the 20th century, if you engaged in sexual activities outside of financial transactions, it was most likely within the confines of a monogamous romantic relationship—often a marriage. However, as societal norms evolved from the 1960s onward, largely influenced by the rise of feminism and the diminishing influence of the church, premarital sex gradually shed its label as a reprehensible idea and became a source of enjoyment for all involved. Thus, casual sex was born.
However, what truly accelerated its prevalence were the accessibility and affordability of reliable forms of birth control, such as condoms, hormonal contraceptives, and intrauterine devices (IUDs), along with the increasing prominence of the internet in our dating lives. Not only could people engage in satisfying sexual encounters without the fear of unwanted pregnancies, but they could also conveniently find willing partners through the digital realm. With casual sex no longer bound by significant societal taboos, individuals could pursue their desires without worrying about the judgment of their peers.
It's important to recognize the advantages associated with casual sex. Firstly, it allows for sexual gratification without the burdens of committed relationships. Guided by the pursuit of pleasure, one can engage with multiple partners at their own pace, free from the rules and expectations typically associated with romantic involvements.
However, the flip side of this relative lawlessness entails its fair share of drawbacks. Maintaining casual arrangements over extended periods can prove challenging, and if one party starts developing romantic feelings, navigating such emotional territory becomes an intricate task.
Ultimately, casual sex is a subjective experience shaped by individual choices. If not approached with caution, it can lead to regrettable mistakes, heartbreak, sexually transmitted infections, or unexpected pregnancies. Yet, with a thoughtful approach and a dash of good fortune, one can embrace the fact that stringent monogamous relationships are no longer the sole norm and indulge in a pleasurable time.
Types of Casual Sex
Not all casual sex experiences are cut from the same cloth. It's not simply about having a one-night stand with a stranger. Casual sex encompasses a variety of arrangements, including long-standing friends-with-benefits setups, encounters with individuals who live far away but coincide in the same location, or any other arrangement that exists outside the boundaries, rules, and obligations of a defined relationship.
Let's dive into the most common types of casual sex setups:
Casual Sex With a Friend
Engaging in casual sex with a friend is a concept that predates the era of app-based hookups. The blurry boundaries of friendships allow two people to hide their attraction under the pretense of being just friends until one or both parties reveal their true feelings. Exploring the sexual side of a previously platonic friendship can be exciting and might even serve as a potential stepping stone toward a deeper relationship. The existing connection and care between friends can make sexual encounters more meaningful and less awkward.
However, embarking on a casual sexual relationship with a friend can also lead to awkwardness if both parties are not ready for the shift in dynamics. Once the initial thrill of fulfilling mutual attraction subsides, it may jeopardize the friendship, especially if the expectations and desires of both individuals are not effectively communicated and managed.
Casual Sex With a Stranger
Opting for casual sex with a stranger rather than a pre-existing friend comes with its own set of advantages. Firstly, if things don't work out, you won't risk losing a long-standing friendship. In fact, it's possible to part ways amicably and even gain a new connection if you maintain good terms after the fling fades.
However, the downside of engaging with strangers is the uncertainty. Since you don't know the person well, miscommunications and misunderstandings can easily arise. What initially appeared as a promising fling may turn out to be a carefully constructed façade. It's crucial to exercise due diligence by conducting online research, seeking input from mutual acquaintances, and taking things slowly until you feel confident that pursuing a sexual encounter won't lead to regret. Alternatively, you may choose to accept the reality that the experience might not live up to expectations. The decision is yours.
Casual Sex With an Ex
If choosing between casual sex with a friend or a stranger feels like a "chocolate or vanilla" dilemma with similar potential outcomes, casual sex with an ex is a different story. In the majority of cases, it's an ill-advised endeavor that tends to end poorly.
The allure of engaging in post-breakup sex with someone you thought you'd never be intimate with again can be irresistible. Regardless of whether you were the one who ended the relationship or the one who was dumped, the temptation for post-breakup sex can override emotional well-being, prioritizing physical desires instead.
However, it's hard to deny that this path often leads to an even messier conclusion than before. It opens the door for further disappointment and provides an opportunity for friends to say, "I told you so."
Repeated Hookups versus One-Time Only
In any casual sex scenario, the encounter can be a one-time event or part of an ongoing affair. While it may be easier to keep things casual when there are no expectations of seeing each other again, the absence of the person can lead to pondering, "What if…?" On the other hand, if you engage in repeated hookups, you'll have a better understanding of what you're getting (or potentially missing out on) by seeing each other regularly.
Ultimately, the decision to continue or end the casual sexual involvement rests with you and the other person involved. If the first hookup goes well, there's no harm in giving it a second try as long as both parties are on the same page regarding their intentions and boundaries. Having an open conversation early on can clarify expectations and prevent misunderstandings.
Feeling overwhelmed by all this information? Don't be discouraged. The lack of rigid rules and societal norms associated with finding casual sex partners online actually gives those who understand how to navigate it an advantage. It's not manipulative; after all, you're both on a hookup site. It's not rocket science, either. It's a straightforward approach to help you maximize your experience on an online hookup platform.
How to Find Casual Sex Partners Online
Finding casual sex partners online can be an exciting and rewarding experience. To maximize your chances of success, here's a simplified guide:
Create an Intriguing Profile
Think like a marketer and highlight your best features. Focus on visual appeal and make a good first impression. Avoid unnecessary or negative information, and use your profile to evoke genuine interest in others.
Choose the Right Site
Location is crucial. Find a site that is safe, caters to your needs, and attracts the quality of members you desire. Consider popular options like XMatch, Adult Friend Finder, Passion.com, FriendFinder-X, Get It On, or NoStringsAttached.
Engage in Chat
Don't overthink online communication. Keep it casual and low-pressure. Start with a short opening message that gives the recipient something to respond to. Transition the conversation off the website or app by exchanging phone numbers.
Set Up a Meeting
Once you have the person's contact information, suggest a meeting or "date" without revealing too much about yourself. Keep it casual and set a date within the next few days. Don't over-plan; go with the flow and keep it light and fun.
Remember, the best casual encounters happen when you can be yourself and enjoy the time with a like-minded partner. Oh, and my very last recommendation if you're looking for something that totally new and trending in terms of sites. Check out the AssTok site. This site is awesome and yes, you will get ass using it!