I recently went out on a limb and decided to give the Bumble app a try. For those unfamiliar with this app, it's a free dating app that functions somewhat similar to Tinder. The main difference between Tinder and Bumble are that women really don't control the situation on Tinder. However, on Bumble, the women are 100% in control of who they connect with and when. If you want to start a conversation with a female on Bumble, then too bad! Before I get into things, I guess I should come out and say that this is my personal review on Bumble after using it for about a 9 days. Find out everything there is to know about it.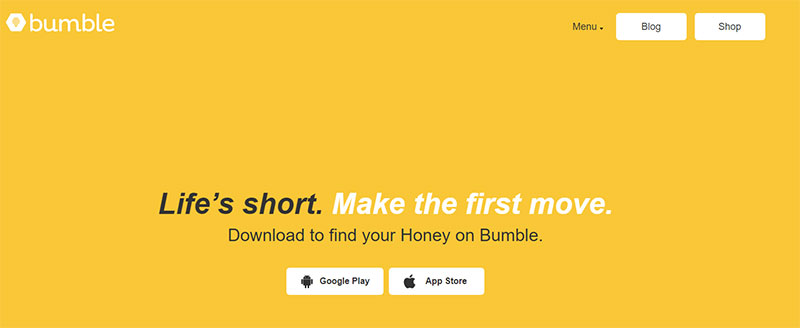 My Bumble App Review And Whether Or Not It Works
The first thing you need to know about Bumble is that it was started by some ex-Tinder founder that filed a lawsuit against Tinder for sexual harassment. She won $1,000,000 in the lawsuit and started this app. her name is Whitney Wolfe. Now that we got that out of the way, let's cover the app itself.
I'm typically one that likes to go for apps that help you bang more so than developing relationships. That said, I had to give this a try just because so many people were ranting and raving about it. Here's everything that I learned when using the Bumble dating service.
The first thing that I can say is it's so damn easy to use. I'm talking stupidly simple. Almost anyone with a brain can likely figure this thing out. The app functions in a similar manner as Tinder. Let's assume you're looking to hook up with Tinder girls, you'd take almost the exact approach here with this app. However, there is a major drawback with Bumble. It requires women to make the first move.
What that means essentially is that you could spend hours upon hours swiping trying to meet a girl and until she swipes back at you and initiates a conversation, you're not going to have a clue about her being interested.
Assuming you get lucky and some girl swipes to connect, you only have a 24 hour period where you can reply to it or the match expires. That's a bunch of bullshit if you ask me. I mean, some people don't have time to use a dating app every single day to chat with people. However, others have plenty of time to do so and those are the ones that do okay with this I'm sure.
Want more time? Then you need to upgrade. If you're looking to buy a little bit of extra response time, then you need to upgrade your membership status to a paid membership.
The Good and Bad About Bumble
There are some good things and bad things about the Bumble dating app. The good news is that when a girl sparks a conversation with you and acts interested, then there's a better chance that you'll be able to hook up. However, if she doesn't try and make that decision to match or connect within 24 hours of your swipe then the match is gone.
There's nothing awesome about spending a lot of time using a dating app that throws all your hard work away every 24 hours. For that same reason, I can stand this app. Oh, and the fact that they've got some premium offer that costs $9.99 and more for the "boost" feature and rematching and the 24-hour extension, I'm not interested. Basically, they make it so the women are in charge when dating and hooking up should be about two people, not just one.
Setting up and account is easy if you want to try it out, but I personally would not waste my time using this dating service. There are better apps out there (like this one) and many that guarantee you'll get laid. There are absolutely no guarantees using Bumble. You've been warned!
Most Popular Bumble Things That People Look For Online
There are some really strange things that people search for when looking for Bumble.com. Find out what many of the people who are horny and looking to hook up are typing into the search engines.
bumble stock
what is bumble
bumbble
how does bumble work
bumble careers
man on bumble keeps stalking me
bumblebff
how to cancel bumble subscription
hinge vs bumble
does bumble have read receipts
bumble how to get vaccinated badge
bumble customer service
bumble superswipe
best bumble openers
cancel bumble subscription
good bumble bios
bumble boost
If you have any questions about any of these, please reach out to me asap. I'm happy to help!