Dealing with locals can be difficult, especially if you're trying to bang. Sometimes it's easy and other times it's really hard. I guess it truly depends on the type of app or site you're using and how you use it. That said, if you're looking to bang, you might end up at Bang Locals. Trust me, you do NOT want to end up there. It's a horrible dating site and a scam as far as I'm concerned! This site review reveals just about everything you could possibly want to know about Banglocals.com.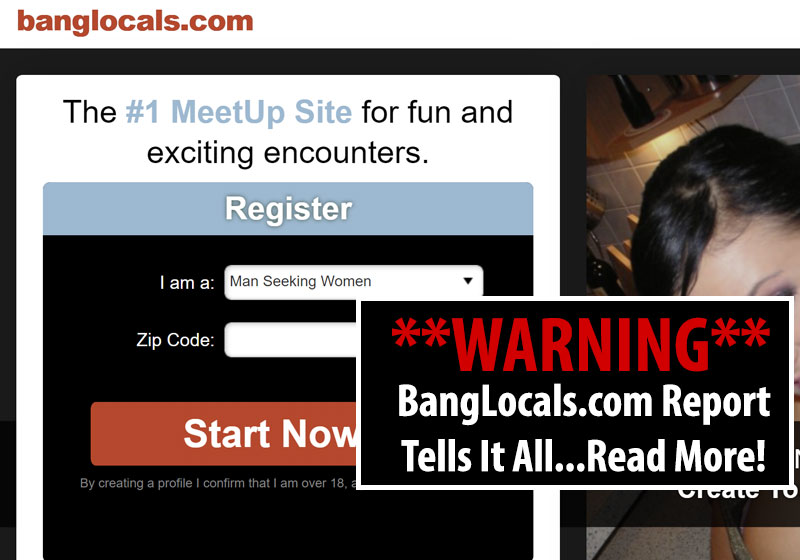 Bang Locals Report Will Shock You
A lot of web sites out there need you to say that you're over the age of 18. It's not at all uncommon. Certain things they offer will only be for adults and they need to protect themselves. Some really hardcore sites will make you prove that you're of age before you can sign up. That doesn't mean that you should always just give them the information they want, though.
Plenty of scam sites have learned that they can trick you into giving them exactly what they want and claim that it's for verification. That's exactly what's going on with Bang Locals. This is a scam site that's going to try everything to get as much money from you as they possibly can. If you find yourself on this hookup site, you should close your browser immediately. It's not going to do anything that you want it to do.
Age Verification Never Requires A Credit Card
When you try to sign up for this site, you're going to come to an age verification page. They tell you that they need you to enter your credit card information in order to let you through. They also assure you that you won't be charged anything. It's all a lie.
You're never going to need to enter credit card information to verify your age. It's just not a thing. If a real site wants to verify your age, they'll require a copy of your ID. If you look closely at this page, you'll see that you've been preselected to join three different porn sites.
That's why they want your credit card. They want to charge you for these memberships and it won't be cheap. These memberships will also auto-renew every single month until you go to each one and cancel.
Then You Get Fake Profiles
After you get through that page and spend a ton of money without knowing it, you'll be getting hit with the second scam. The site still wants you to pay them for a premium membership. That's why you'll start getting messages in your inbox.
They'll be coming from a lot of really gorgeous women who just want to talk to you. The problem here is that the women you see have never been on the site. The pictures are all taken from stock photo companies. Just run a reverse image search on them and you'll see them pop up all over the internet.
Conclusion: Bang Locals Is Just A Scam Site
At the end of the day, Bang Locals is just another scam site. It only exists to take your money. They get a cut of every cent that you spend on the porn sites they sign you up for. They send you fake messages to get you to upgrade you membership so you can read and respond to them. The tricks they use are very common and they'll end up costing you a whole lot of money. This is a site to steer clear from and never use! Do NOT use this at all. If you want to bang locals, check this page out.