I love hooking up with my fuckbuddy, but 9 times out of 10, it's nothing but a waste of time because the platforms suck that bad. The problem with this nonsense is that the Freefuckbuddytonight is the same old song and dance. You'll know exactly what I'm talking about once you read this full review posted below.
Don't worry, I left NOTHING out, told it like it is – PERIOD!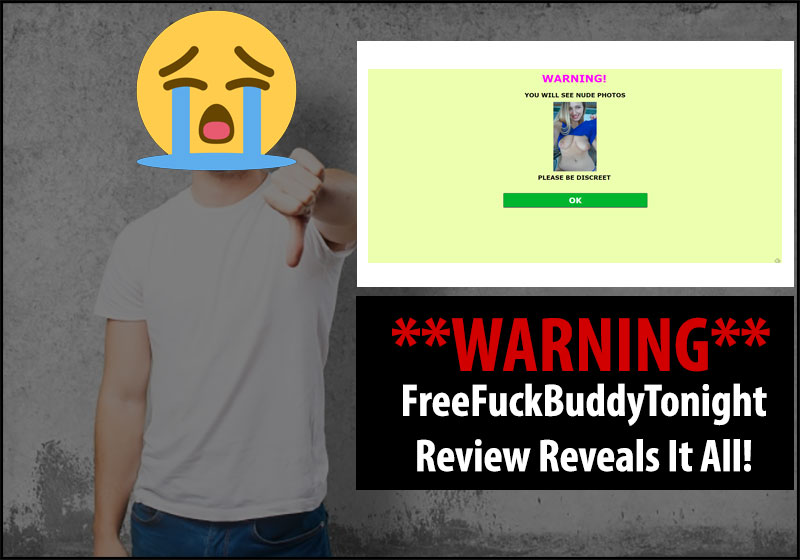 My Review Of FreeFuckBuddyTonight.com
Okay, so seeing as though I'm as honest as it gets, here's what you need to know…
FreeFuckBuddyTonight is a feeder site that sends you to a different scam site. It's a common set up on the internet and it only works to try and separate you from your money. Not only are you being tricked into trying to sign up for the first site, but the second one is really going to try to get your money out of you. They use all of the same old tactics that other places use and you'll be on the hook for a recurring monthly charge if you fall for it. It's best to simply stay away from both.
Redirects…Be Prepared
If you try to sign up, you're immediately going to be redirected to Free Lifetime Fuck Book. This is a very well-known scam site that's been running for years. They lure in new members and try to convince them that they should upgrade their profile to a premium, paid account.
If you get that far, you're not going to be very happy. It won't take long at all to see that you've wasted your money and you'll have to actively work to cancel it. They won't make it easy because they want to take as much of your money as they possibly can.
Messages and More Messages!
As soon as you make your free profile, you're going to start getting messages from available women who just want to spend some time with you. The problem here is that you can't respond to any of the messages unless you pay to upgrade your membership.
The bigger problem is that all of the messages are fake. They're sent by the site to make you believe that all you have to do is respond to get together with someone. Obviously, it's not going to happen because the profiles sending you the messages are totally fake.
Tons of Fake Profiles
The site has gone through the trouble to make an entire site filled with fake profiles just to send you automated messages. After seeing so many, a lot of people just give in and upgrade their accounts. Its how the company stays in business and it works very well for them.
They don't have to have a functioning site. They just have to have a steady stream of new people to try to scam. That's where the feeder site comes in. They both work together and they both share the profits from the people that they convince to open their wallets.
Conclusion: FreeFuckBuddyTonight Is The Worst – Do NOT Join This Site!
There's no reason to deal with FreeFuckBuddyTonight. They don't have anything to offer anyone. They only want to trick you out of your money and that's it. You'll never talk to anyone and you'll never meet up with another person.
If there's an active profile around, then it's being run by the site. Unless you enjoy getting emails from bots and computer programs, you won't have a good time here. There are much better sites out there. All you have to do is use this here and you'll be in a much better position to find your hook up.