I can't tell you how frustrating it is to come across so many fake dating sites (most recently Kikfriender.com and Instafuck.com). I'm all for excitement and checking out nude Instagram pics, but when it comes to dating I couldn't be more serious about things. Actually, I shouldn't really call it dating considering I'm just all about having sex with girls looking to bang. That said, when I initially came across Fuckbook I was thoroughly impressed, to say the least. However, that quickly changed after diving into the membership private area as a premium member. What I'm about to share with you will be shocking and perhaps life-changing so be sure to pay attention.
Fuckbook Is A 100% Scam (based on my research). I'm revealing everything I know about it right here too. So keep your eyes and ears open to take it all in!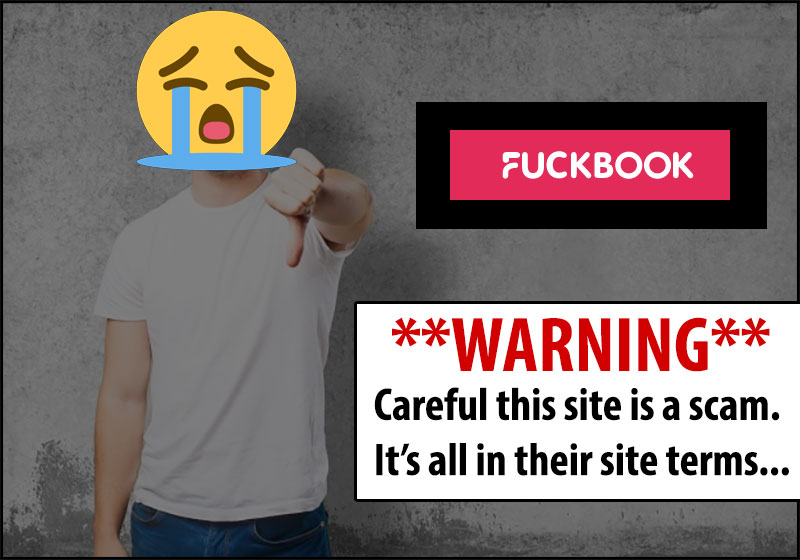 Fuckbook Review Showcases All The Scamming Involved
FuckBook is out to scam you out of your wages. Yup, I'm talking about robbing you of your green and you're agreeing to it by simply making your free profile. As with any dating site, you have to agree to the terms and conditions of the owners before you're allowed to use it.
Most people completely ignore the giant text wall because they have better things to do than spend an hour reading legalese. When all they really want to do is get inside and start trying to meet up with people. Unfortunately, one look at what they have to say would be enough to make you leave and never look back again.
Employees Run The Profiles
Right in the black and white text is the corporation admitting to the fact that FuckBook employs company-provided profiles. They even go one step further than most hook-up sites and mark them with a "C." This lets you know that the person who's trying to email you or sending you friend requests is nothing more than a fantasy created by the owners.
In fact, they state that you're agreeing to be contacted by these fake accounts, in order to sell you on the idea that this hookup site has something to offer you when really it's the exact opposite. If they actually had users who wanted to get together, then they would never have to fake it.
Very Few Real Users – IMO
Fuckbook.com would have more than enough reasons for people to join and upgrade their profiles, but they simply don't. There are so few actual users that after the fake ones stop contacting you; you'll be left alone in a desolate wasteland of bots and stolen images. That's right, not even the images are real.
Since the profiles are fake, the person behind it obviously doesn't exist. That means that the picture was ripped from another dating site or a message board and used to scam you.
Worst Of The Worst
The simple fact is that nothing is as it seems here and you're helping them to lie to you. Fuck Book has to tell you that you're going to be contacted by bots to keep from being shut down, and they do it. They rely on the fact that so few people will actually look into it, and just take it on faith that they have your best interests in mind. This is almost never the case. People like the owners of Fuckbook just want to get as much of your money as possible before you catch on and leave.
The Bottomline Is This…
There's never going to be anything good offered here, and no one deserves the wasted time or money. There are plenty of other dating sites out there that actually have something to give you, but this is certainly not one of them.
If you want to spend your time and money and get nothing for it, then you might like what they have to offer. Most people, however, join hook up sites to hook up. It's why they exist, and what they claim to offer. Stay as far away as you possibly can, and find a platform that actually has something that you can use in your search.
If you're looking to share Instagram photos with someone, perhaps meet up to bang and part ways like nothing ever happened, then awesome sauce, you can do that – right here.