If you do a search online for either "Hello Hotties review" or simply just "Hello Hotties," then chances are you're going to see a list of sites have reviewed this platform. It doesn't take long to realize that most sites are talking negatively about the site. If you're looking for another opinion, then listen to what I have to say. I've covered it all below. Whatever you do, please do not join before reading this!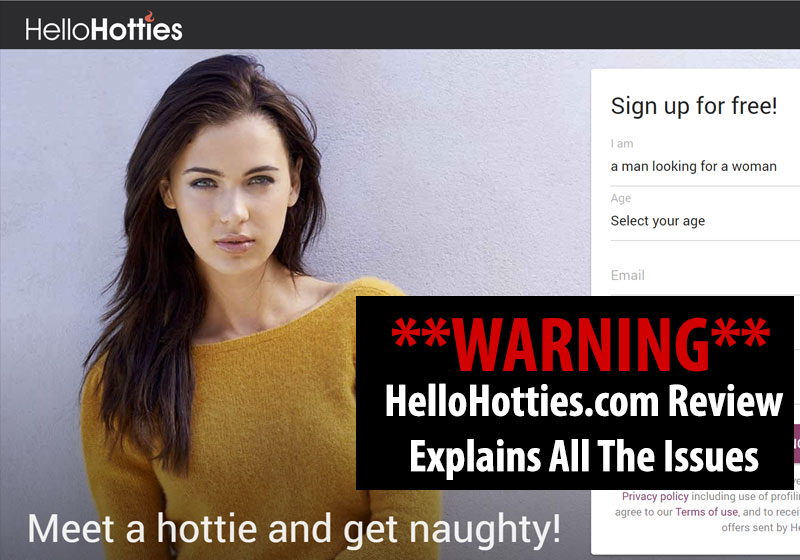 Complete Hello Hotties Review
Here's the full monty, the whole shebang, every little detail you need to know about Hellohotties.com…
Most people understand that you have to put some effort into your dating site profiles. You can't just expect to join a site and have women flock to you. It's just not how it works. You have to talk about yourself, make sure you have good pictures up, and actually interact with them online before you get to meet up with them. If you're doing all of that, then at least you know that you're on a real site.
That's not the case at all with Hello Hotties. This one wants you to believe that all it takes is creating a profile and you've done all that you need to do. If that were the case, no one would have to go looking for a hookup. All it would take is a few seconds to sign up for a site and you'd be on the way out the door.
You Get Messages Pretty Much Right Away on Hellohoties

The way that this site lets you know that it's fake is in everything that they do. If you want to see it for yourself, go ahead and create a free profile. Just make sure that you don't fill it out. Don't give any real information about yourself. Don't talk about your likes and dislikes. Don't talk about what you're looking for. Don't upload any pictures of yourself. Just make a blank profile and see what happens.
You'll notice that you're going to start getting messages right away. They're going to be coming from multiple women. They'll all want to talk to you. That's how you know that it's fake. That would never happen in real life. Women on dating sites never have to go out of their way to talk to guys. They certainly don't have to message the ones who don't say anything about themselves.
Run A Reverse Image Search
Now it's time to see what's really going on. Pick any of the profiles that have been sending you those messages. Take their profile pictures and run a reverse image search on them. It doesn't matter which ones you choose.
This will work for any of them. What you're going to get are hits all over the internet, usually from porn sites. The pictures are all just as fake as the profiles. They've been created for the single purpose of sending you messages when you sign up. It's all done to trick you into upgrading your account.
Conclusion: HelloHotties.com Should Be Avoided
There's no reason to waste your time with HelloHotties.com. The site sends you fake messages to try and convince you to upgrade your account. You'll have to do that if you want to respond to any of the messages that you've been getting. That's their entire scam.
If you sign up for HelloHoties, you might fall for it. Just do yourself a favor and skip this site. It has nothing for you and it was never meant to operate as a real dating site. It's just a total waste of time. Look, if you're looking to smash someone and do nothing more but hookup, then give my favorite network a shot. You'll have way better luck, I promise.