If you didn't know by now, I'm perhaps the horniest guy you'll ever meet. No lie, that's just me and I live life with the only goal of meeting horny women every single day. That's why I decided to check out the HornyContacts website. If you've got the same goals and ambitions as me, then you'll want to check out this site as well.
Actually, strike that! You'll want to check out my review of the hornycontacts.com website before you do anything!
The good news is that I've written a complete review on the site and everything that it has to offer (or lacks). Check it out below.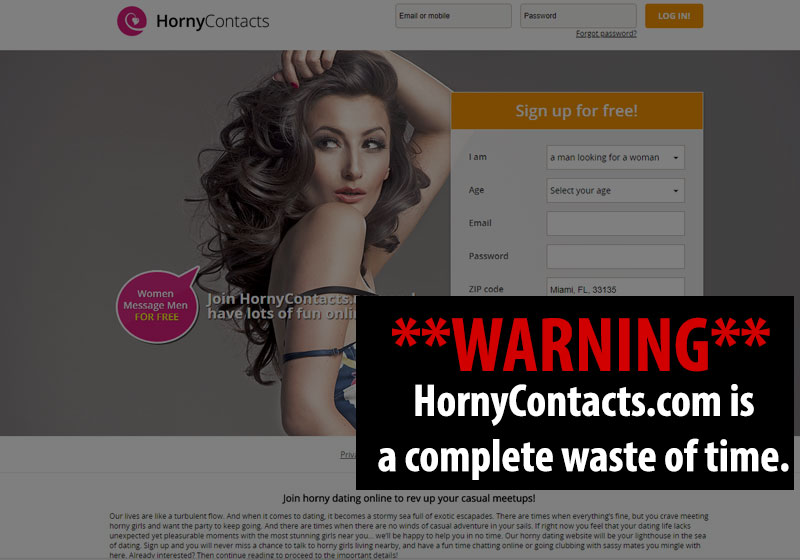 HornyContacts.com Review Reveals The Worst, Sorry!
Before diving into things, something you must know, I review all dating sites with the same approach giving each of them their fair share to prove me wrong. Some do, many don't! Find out the truth behind this one…
Sorry Folks, You Won't Like This…
It's not all that difficult to figure out whether or not Horny Contacts is a scam. All you have to do is create a simple free profile. The second it's set up and confirmed, you're going to start getting messages from women who are practically begging for a piece of you.
This may seem like a good thing when you're looking for a good time. But if you think about it for more than a second, it becomes apparent that it's all a scam.
You're just not that hot, don't toot your own horn buddy!
She Doesn't Want You
First off, there's no reason that a hot, horny woman would have to beg a stranger with no profile picture to show her a good time. Not unless she's looking for some creep.
If she's been on the site for as long as she claims, she should have plenty of guys waiting in the wings to make her feel good. It's just not how reality works.
Chat Requests Too? FML!
Right alongside the emails, you're going to be getting chat requests. These are the exact same thing, only they come through the instant message system. You'll have a blinking box at the bottom of your pages with dozens of women desperately trying to talk to you.
No, You Cannot Start Responding
If it were a legitimate site, they'd allow you to respond, but that's clearly not how it works. You won't be able to respond to either the emails or the chats unless you upgrade your profile and start paying. That's the owner's end game. The site just wants to get you on the hook with promises that it can never fulfill.
The Terms Suck
If you take a look at the terms of service, you'll see that the site tells you it's manipulating you. It blatantly states that it's using customer support representatives to engage you in conversation. This is where all those messages are coming from. They're just telling you that they legally have the right to scam you.
Conclusion: HornyContacts Is Not A Recommended Dating Site
There's no reason at all to visit Hornycontacts.com. In fact, when you see these things happening, you should click the back button and exit immediately. They don't have your best interests at heart, and they certainly don't have anything to offer you.
If they had enough women on the site, they wouldn't have to resort to these measures. The fact of the matter is that the entire Horny Contacts network is filled with men who are being tricked into paying for nothing. It's all an illusion and you're doing nothing but handing over your money for no reason at all. Look, if you're looking for a network that works, then test this one here and report back to me. In the meantime, the list below is a rundown of other sites that you should avoid due to them being ineffective!