Some dating sites are awesome and others are absolute garbage. Unfortunately, this is one of those cases where it's time to take out the trash. In other words, HotChatDate.com is pretty much awful. I've covered everything you need to know about this dating website and why it's the absolute pits.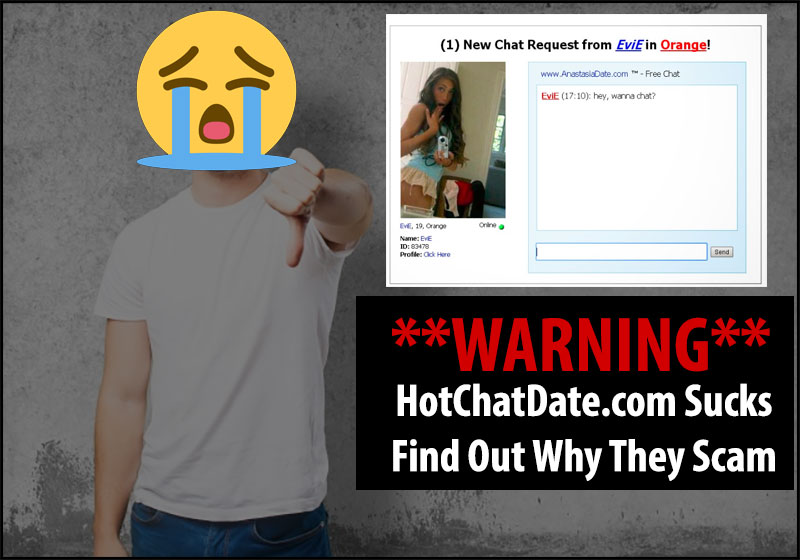 My HotChatDate Review Reveals The Truth
HotChatDate is nothing but a feeder site and will never amount to anything for you. Not only do they lie about the location of the person you're supposedly talking to, but she's anything but "live" when you see her.
It's going to seem like she's on her cam and trying to chat, but if you pay attention, you'll see the lie. What you're actually seeing is a prerecorded video (Like the one on this landing page) on a look. If you spend enough time with it, you'll be able to see it restart and you'll know that you're being scammed. They're not the first site to do it.
IP Address / GeoLocation Scam
On top of that, the site is going to use your IP address to figure out where you live. This is done so they can tell you that the location of the person you think you're talking to is in the same area.
It doesn't matter where you are, the same person will always claim to be in the same city. If you know someone who lives across the country, you can easily test this for yourself and see the results. Of course, you shouldn't even have to take it that far. You can tell it's a scam just by trying to sign up.
Redirect Is Instant
When you do that, you're not going to be brought to a signup area for the site. Instead, you're going to be immediately redirected to a different site called Anastasia Date. This is where the scam really kicks into high gear.
You'll be immediately inundated with tons of messages from other profiles. The problem is that you won't be able to respond to any of them unless you upgrade your profile. Once you do that, you're going to see that there's practically no one on the site. Most of the profiles are abandoned or run by the site itself to trick you.
Your Money Is All That Matters
If this site had anything to actually offer people, they wouldn't have to resort to using a feeder site to get them customers. They would be able to run just by word of mouth and the features that they offer. Unfortunately, they don't even bother trying.
They have no intention of being a real dating site. They only exist to try and trick you out of your money. It's how they stay in business and it works really well for them. Sites like this will always exist in very large numbers on the internet.
Conclusion: HotChatDate Is A Total Redirect Scam
The best thing that you can do is stay away from HotChatDate, to begin with. It doesn't have anything for you but tricks. Whenever you find yourself being sent to a different site, you should take it as a sign that you should leave. There's never a legitimate reason for this to happen. It's always the sign of a scam and the only way to keep yourself safe is to move on.
There are plenty of other real hookup sites out there that actually offer you something in return for your time. All you have to do is find one that can actually deliver. Guess what, I've taken the hard work out of the equation for you. Use this here and you won't have to worry about scumbag redirects.