I'll be the first one to say that it's just about impossible to get laid on WellHello. I've tested it out and cannot say with confidence that it will work for you. For the mere fact that I cannot say that and stand behind it should tell you something. I've had lots of people reach out asking hot to cancel their WellHello membership and given that so many people have asked me over the years, I'm going to share the exact steps with you here. Here's the full scoop on how to cancel, delete your account, profile, the whole nine yards! This is all that you need to know!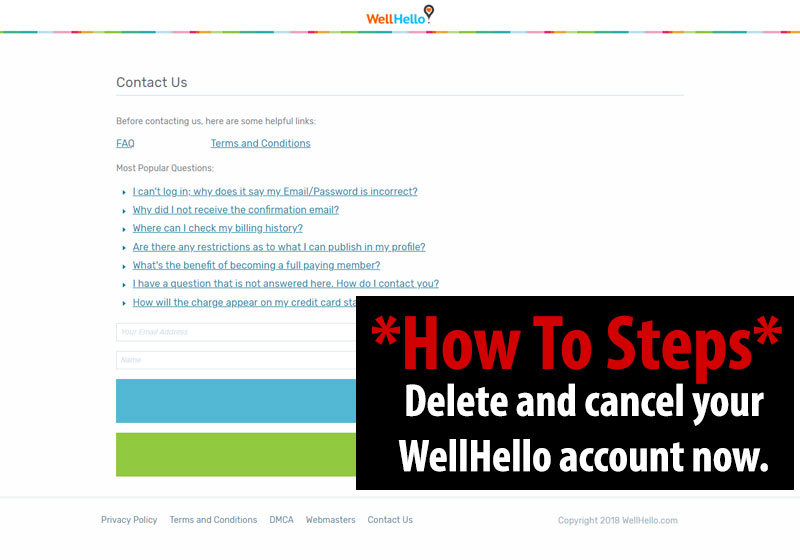 Steps To Delete & Cancel Your WellHello.com Profile For Good!
If you're unlucky enough to have found yourself on Well Hello, then chances are good that you want to get yourself out of it. It's no secret that the site uses scam tactics to keep you interested in it. In fact, they spend the majority of their time and resources trying to trick you into believing that real people are trying to talk to you.
As soon as you sign up, you're going to start getting messages that you can't respond to. If you want to do that, you're going to have to open up your wallet and pay for an upgrade (for fake profiles too).
Once you do that, though, you're going to see very quickly that the site has almost no real users. The people who have been sending you messages are bots and paid employees. It's all a case of smoke and mirrors to get you to hand over your hard earned cash. Now that you want to cancel, they don't make it overly easy.
There's no guide to help you do it because they simply don't want you to. Not all is lost, though. All of the steps are laid out for you below. Follow along with them and you'll be able to walk away and you'll never have to look back.
To Delete Your Account:
Log into your profile as you normally would.
Look at the left side of the screen until you find "Contact Us" and click on it.
Scroll down on this new page until you see an option that says "Create a new ticket" and select it.
Where it says "Write a Message" tell them that you want your account closed. Give them your full name, email address and username to move things along quickly.
Click "Send" and that's it. They'll be forced to take care of the rest.
If you only want to cancel your paid membership, simply follow the same steps until you get to write your message. Give them the same information, but tell them that you only want to downgrade.
They'll have no option but to honor your request. Make sure you do it early in the billing cycle, though. They can always pull the trick of telling you that it will take a few days to get it done. If the time goes over into your next billing cycle, you'll be on the hook for yet another payment.
Conclusion: WellHello.com Is Not Worth It, Cancel And Move On!
Not all dating sites are created equally and WellHello is one of the worst. They don't have your best interests at heart in the least. All they want is to separate you from your money. Whenever you find yourself in a situation like this, the best thing you can do is leave it as quickly as you can. You'll be able to save your money and you won't have to deal with a headache. There's nothing worse than wasting your time on a site that has nothing at all to offer you. There are much better ones out there to take up your time – such as this here.