I've recently discovered something that I just couldn't keep my mouth shut about. It's about another one of these "Insta" dating sites and this time it's the Instacheaters website that I'll be covering. What I will tell you from the get-go is that it's a huge waste of time. I've seen it a million times over. Find out why this is such a waste of time, money, and headache.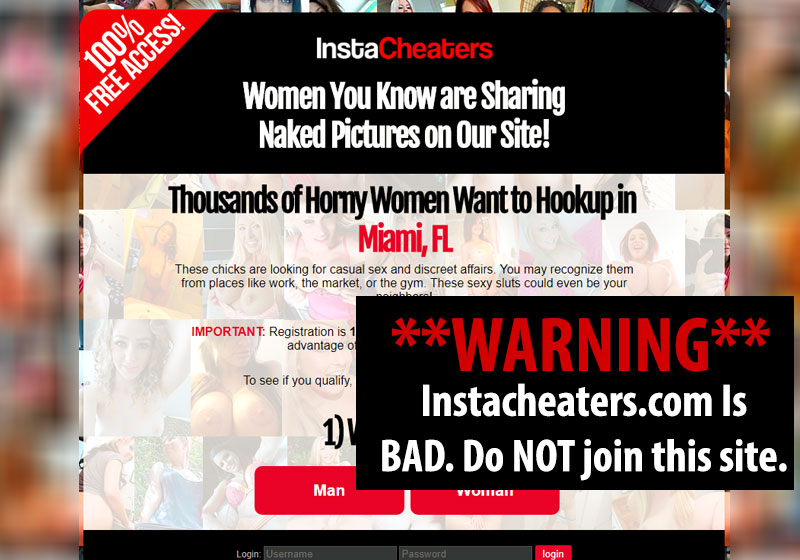 My Review Of The Instacheater Website
I've left absolutely NOTHING out of this review. The owners will hate me for posting this but quite frankly I don't care. I'm not here to make friends, just tell the truth to consumers. Here's the scoop…
Instacheaters has the unique honor of being a scam site that hits you with more than one scam at a time. Not only does a quick look at the terms of service shows that they employ sitewide run profiles, they also lie about what you're getting charged.
It's all pretty easy to figure out, but if you don't know what you're looking for, you can find yourself on the hook for quite a bit of money.
These scams aren't new, but enough people fall for them that the site is able to stay open and in business. The best way to combat it is to recognize the scams when you see them, and then avoid the site altogether.
TOS Is A A Shady Disaster
The first that you're going to need to do in order to use the site is agree to the terms of service. This fine print tells you right there that the site employs "Love Stars," or at the very least, they create automated profiles that are called "Love Stars." These are profiles that are created and ran by the site to send you spam. They actually are here on this site too.  Like I said, each one is run by either a bot or a paid employee and is totally fictitious. The person that you're seeing in the profile pictures has no idea that her image is being used.
Purchasing Photos
What the site does is buy the photos from porn sites across the Internet. A quick reverse image search is going to show you exactly where they're coming from. The person that you think you're talking to have never existed. She's simply an unrelated person whose information was dreamed up by employees.
You're never going to meet up in real life because she doesn't exist in real life. It's really that simple and it happens all over the Internet every single day. Tons of people fall for it and then regret ever finding out about the site in the first place.
Responding To Messages Means Nothing
If you give in to your curiosity and decide that you want to respond to all these messages that you're getting from the fake profile, it's going to cost you. You're going to need to upgrade your membership and start with your monthly fee. Unfortunately, it doesn't end there. When you enter your information, you're also going to be agreeing to paid memberships to three different porn sites.
These memberships will automatically bill you each and every month until you catch on and cancel them yourself. That's the second part of the scam that sites like this like to employ. Every month that you pay for your membership, Instacheaters is getting a cut of the money and allowed to remain in the business of scamming people.
Conclusion: Instacheat Website Is Bad, Move On Please!
There's no way around it, this is a bad site. If you're thinking about joining, then you did the right thing by looking into it first. You just saved yourself a lot of money that you never even knew you were going to be spending. Whenever you see a place that looks too good to be true, it probably is. That's just the way that the Internet works.
Assuming you want to find an Insta Hookup, then you should just do it by clicking this link and forget this Instacheaters site along with all the others.