Here is literally everything that I discovered about the LocalBooty website. You'll be shocked when you find out that it's nothing but problems. Do yourself a solid and stay far, far, away from this website. Learn more below…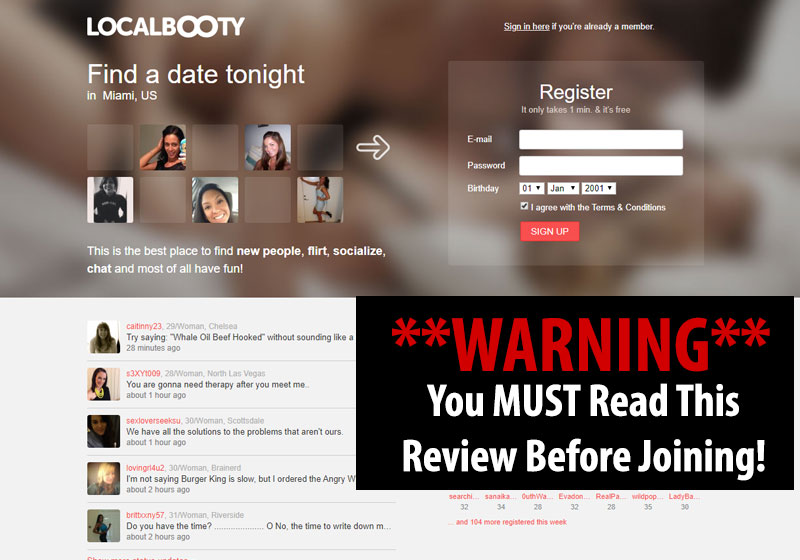 The LocalBooty Report (Raw Version)
While some sites seem like a scam from the moment you enter, other sites do a great job in trying to appear as legitimate as possible. Their mission is to exploit the desperation of men who are looking to hook up with women for as little work as possible.
They love to sell the idea that these women just can't wait to jump in bed and you will be able to hook up with them easily. This couldn't be farther from the truth.
Localbooty.com is a site that is linked to a variety of other scam sites like flirtlocal.com, meetwives.com, and xcheaters.com. All these sites claim to have a vast roster of gorgeous women frequenting the community. You might think this is normal but it is in fact a sign that what you are about to encounter is a scam.
All The Pictures Are Stolen
One of the most common tactics is simply to steal images all across the internet in which to create fake profiles with. A simple reverse image search will show that the majority, if not all, of the pictures you find on localbooty.com are from other places.
The same is true for all the sites that they send you to. The vast majority of these pictures are from amateur porn stars, many of whom are quite popular. It would be strange to see all the girls in one place, and that's because such a thing would never happen. This is just one of the first ways the site tries to set you up for the scam.
Never Ending Fake Messages From Bots
While the site might look like a real site, with typical functions and payment packages, the reality is nothing is on the up and up. The moment you set up your account, you will be hit with a variety of messages from all types of girls. Your email inbox will be filled with messages from women saying you're hot and they're interested. The strange thing here is, this will happen regardless if you have set up anything at all in your profile.
You can have a completely empty profile and no picture, and you will still receive these messages. This is because the messages are being sent out en masse by a computer program. Everyone who signs up to the site gets these messages because it's not from real people.  The moment you try to respond to the messages, you will be hit with a prompt to update to a paid membership. All these people care about is taking your money.
Conclusion: Avoid Localbooty.com At All Costs
The only real people on the site are paid employees from localbooty.com, who run these fictitious accounts as a means to keep you hooked onto the site. They concede that there are profiles that exists only for promotion, and that some profiles are run by employees so that they can generate traffic on the site.
The only reason this language exists is so that you can't sue these people after the fact when you realize the whole thing is a scam. They will claim you already agreed to the terms and conditions. For these reasons, you should stay far away from this fraudulent site.
Where do you go to get laid you ask? Don't worry, I've got you covered here. Check out the one and only Instabang app and you'll be good to go! No doubt about it, you will bang someone using this mobile app. I use it almost every day and it works.