Are you looking to hookup with women on the heavier side? It's not something I commonly do, but I've done enough research to know what to expect when dating a BBW woman. In fact, I've done a lot of digging in the SelfieBBWs.com website and there are things that I want you to know about this site immediately. If you're a big girl lover, then check this review out. If not, then head to the homepage or read some more of my articles (starting here).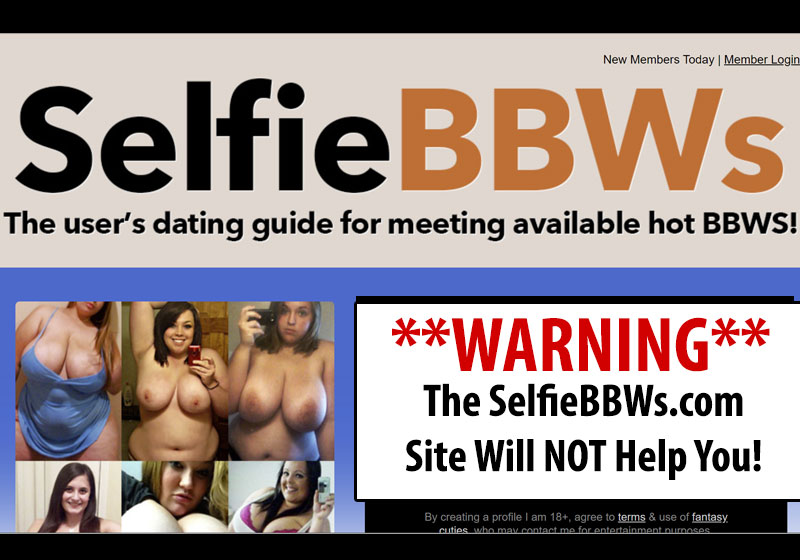 Selfie BBWs – The Full Investigation
Some guys like them big. That's perfectly okay. A good BBW can always be ready to make all of your dreams come true. They're willing to pull out stops that the smaller girls just won't. That's why so many people end up on BBW dating sites.
They seem filled with women who are eager to get dirty and always ready to show off their bodies. If the site is legitimate, then great. You're well on your way to some heavy lovin'. The problem is that not all of them have your best interests in mind. Selfie BBWs, for instance, is nothing more than a scam. This site hits you with two big ones that are meant to trick you into signing up for a premium membership. All you really have to do is spend some time on the site to see what's going on.
They Use Online Cuties To Get You On The Hook
The first punch of their scam assault comes in the form of "online cuties". These are profiles that are created by and for the site itself. It operates through them in order to spam your messages all day and night long. Your inbox is basically going to be full from the second you make your free profile. Naturally, you won't be able to respond to a single one of these messages.
It wouldn't be much of a scam if they gave you full access to all of the features for free. They want to coax you into the belief that you'd be crazy to not take advantage of all these heavy hotties that just want a piece of you. All you have to do is look at the profiles though and you'll see the "OC," badge on it.
They Also Pay Real People To Talk To You
So, they've sent you all of these automated messages and you fell for it. You've upgraded your profile so you could respond to them. Now what? Well, this is where you feel the second punch. You'll actually get a few responses from these girls.
They'll even hold a brief conversation with you. So what's the problem? The problem is that it's still not real. The people talking to you are just paid employees, nothing more. They get money for every single message that they send you. It's their job and you're never going to be meeting up with them.
Conclusion: Selfie BBWs Is A Waste Of Money
The take away from all of this is that you should stay away from Selfie BBWs. It's a waste of time. More importantly, it's a total waste of money. If you open up your wallet for them, you'll only end up talking to employees.
They'll string you along for as long as they possibly can. You'll never meet them in person. The site is only out to scam you. There are much better options out there for you. All you have to do is find them and you'll be much better off. Yes, your life will improve significantly.
Related: