I'm super interested in meeting as many people as possible to hook up more often. The more I bang, the happier I become, simple as that really! Now, that said, I'm a huge fan of one site specifically, but I never turn down an opportunity to test out a new dating site. I recently gave superhookup.com a shot and I've got lots to share with you about the site and company behind it.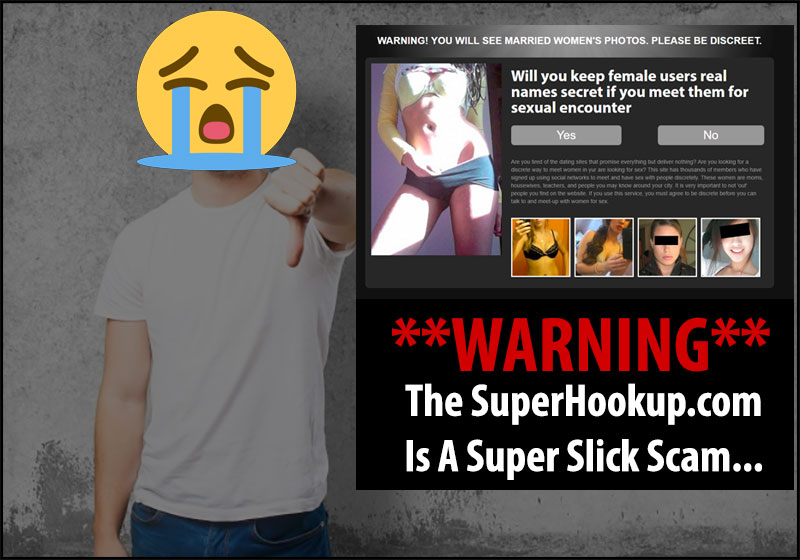 My Superhookup Review And Experience
Here's the skinny on this so-called super duper hookup website. I've covered it all and this should be enough for you to make a sound decision to join.
Partnership in the world of "con" is an understood fact. If one company or website wants to fool people into spending time and money with them, sometimes they partner with others with the same agenda. This ensures that both of them compliment the other and create a façade of respectability where one feeds off the other, while at the same time make more money and divide it amongst themselves.
Working With SocialGlator.com
Just such a symbiotic relationship exists between SuperHookup.com and SocialGlator.com. The former completes the task of gathering people, while the other one pulls the ultimate scam. When one signs up with SuperHookup and completes their registration, the site immediately redirects the user to SocialGlator's members' page.
Where The Con Appears
Now, SocialGrator is where the con actually happens. The site, for one, is chockfull of fake profiles that create an atmosphere of regular activity. But, the reality is very different. The thing is, none of the accounts that a person sees on the homepage are real.
They are created by the handlers of the site and use pictures picked up off the internet and other sites. No name, no location, no description, and no likes and dislikes are real. The women the profiles stand for do not exist and the jigsaw identity seen on the site is bogus.
Inbox Messages All Over The Place
Now, after a person registers, they find their inboxes filled to the brim with a slew of emails and instant messages. But, if the profiles are fake, what's to stop the site from sending fake messages and emails? Because that is exactly what happens. The site is known to actually employ people whose only job is to chat with you, string you along, and eventually make you pay up for an upgraded monthly membership.
Which will put a hole in your pocket the size of over $400 dollars annually. But the money all goes to waste, for you will never see, nor meet with any of these women. Since, as we have already discussed, the employees are not real members of the site and their job descriptions do not include getting down and dirty with the victims.
Bots All Over The Place
Not only does the site employ people to chat with you, but it also uses bots. They are sophisticated computer programs that have the sole purpose of generating fake messages and emails and sending them to the new members in the name of the fake women.
When a user sees these emails, they obviously think they have become an instant hit on the site. It is only natural for them to want to take advantage of this admiration and connect with the women. But to reply to the messages, they are asked to upgrade their membership. Which requires money and the scam cashes in.
Conclusion: Avoid SuperHookup.com Or Be Sorry
The easiest way to assure you stay safe from such scams and frauds is to make sure you know everything about what you are signing up for. Make sure you don't give your personal and credit information to un-secure third parties. Only then can these con-artists be stopped for good. The regular Joe needs to stop falling for the bogus scams like this. Hopefully, my insight has opened your eyes! Looking for other sites to steer clear from? If so, then you should do yourself a solid and avoid this site here and many others as well. Too many for me to mention to be 100% honest with you!