Before I kick on my review of the TrueBootyCall website, I want to come clean and let it be known that I'm 100% all about booty calls. In fact, if I can find an online booty call every night of the week then I'm excited to do so. That said, you won't be excited to read this review, I can almost guarantee you that. Find out why I absolutely hate Truebootycall.com and why you should too.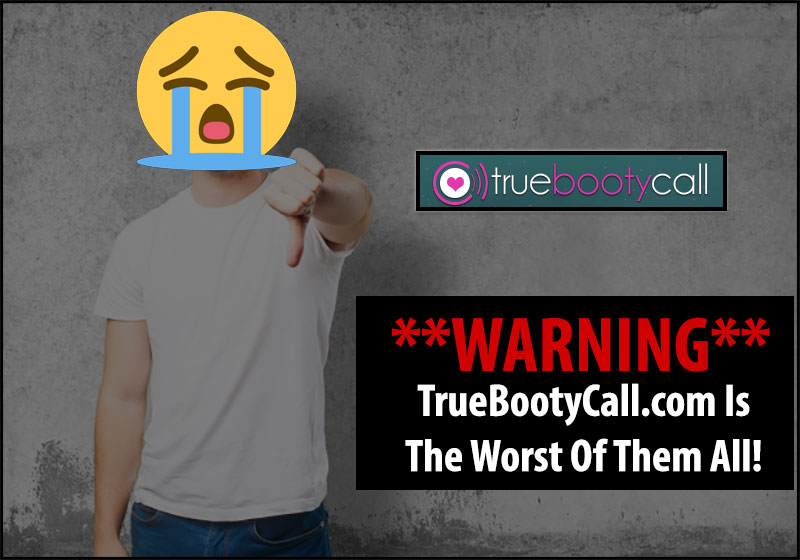 Truebootycall.com Review
Here's the scoop. Don't attempt to find any booty call until you read this…
It All Starts With The Images
True Booty Call uses images from other dating sites to create profiles that are run by employees to string you along and make you pay for access. That's really all that there is to it and it's nothing new. In fact, this little scam has been around for many, many years and shows no signs of leaving any time soon. If you're doing your research on them before you decide to join, then great work. That's what you should always do and you'll be able to make your decision much more easily. Here is how this site is going to try and scam you if you join:
The second that you get to the homepage, you're going to see a ton of gorgeous women who just so happen to live close to you. Don't believe it. It's all just manipulation and lies. If you make a free profile, you'll be able to check them out more easily. In fact, you can run a quick experiment to see whether or not these women are really here and just waiting for you to ask them out. It's an experiment that you should try with every new site that you're considering joining.
Messages Pour In Like Niagra Falls
Once the messages start pouring in, and they will, just take a second to check out the profiles that are sending them. Once you do that, pick some of the pictures. It doesn't matter which ones. Now that you have them, all you have to do is run a reverse image search on Google. It's a really fast process that will take no more than a few seconds to complete.
The information that you learn, though, will tell you plenty. What you're going to see is that the images are scattered all across the internet on different dating sites. This is the rabbit hole that will lead you to the main scam.
Pics Ripped? Perhaps…
What this site does, like so many other sites do, is take pictures from their other properties to populate their new scam sites. The people that you're seeing may have been on a dating site at some point, but they're certainly not on the one that you're using. Whenever you upload an image, the company automatically owns it. This is something that you have to agree to in order to use the site. They then take it and craft an entire fake profile around it.
That profile is then manned by employees who set out to send you message after message to make you think that the site is practically throwing women at you. What happens, though, is that you're not going to be able to respond to a single one of these messages unless you upgrade to a paid profile. Once that starts, the messages will dry up and you'll be left with nothing to do but look at profiles from people that don't exist.
Conclusion: No True Booty Calls on TrueBootyCall.com, SORRY!
It's best to simply stay away from sites like this. They have nothing to offer anyone and will only make you waste your time and money. Keep up your research and find something that will work for you and give you something in return for your cash. In fact, strike that, I've got just the answer for you. All you have to do is read this and you'll understand what I'm talking about.