This review today is about a site called Freelifetimefuckbook. It's literally nothing but a total scam and one that you most definitely want to avoid. The "free" and the "lifetime" always seem to rope people in, but not this guy. I don't fall for that nonsense. Here's what I know about the Fuckbook scam and why you should avoid it at all costs.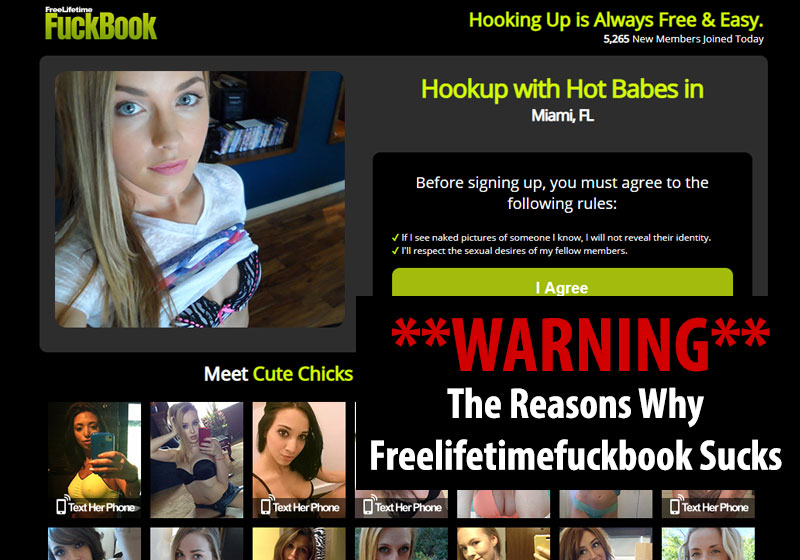 FreeLifetimeFuckbook Review Reveals All
Users of the internet are used to seeing spam ads that claim that there are local girls desperate to hook up with you. These sites snatch your IP address and guess where you're located, and claim they have hot girls who are in your exact area. Freelifetimefuckbook.com is a classic dating site scam where they try to pretend like everything is free when really they just want to be able to charge your card as soon as you give it to them.
While these sites may look like a typical dating site, and feature a gallery of beautiful girls, you have to understand that this is all an elaborate fraud. These types of sites are masters at exploiting the desperate and the lonely. They want to use the images of hot young women to lower your guard and take advantage of you. They have explicit names so that you are more likely to think that the girls here are really down to hook up.  They have no intention of having you hook up with anyone, and you will soon realize there literally isn't a single real profile on the site.
They Lie Right From The Start
Sites like freelifetimefuckbook.com are successful because they do a pretty good job at mirroring what you would see on a typical dating site. They have common features that you would expect on such a site, like chats, stats, and photo galleries. The first thing they tell you is that the site is free. But the second you sign up for an account they send you to another page where they say they need your credit card information to verify your age.
This makes no sense and no reputable business would ever do such a thing. If you make the mistake of doing this, you will find over eighty dollars of recurring monthly fees have been billed to your card. This is the whole game for them.
They just want to be able to charge you as soon as possible for as long as possible. So the rest of their fraud is dedicated to keeping you on the site by making you think women are really interested in you.
Conclusion: All An Elaborate Fraud
This site is desperate to make you think that women are eager to talk to you. They use computer bots to flood your inbox and email with tons of messages from fake women. They also have a counter that marks your amount of views, so that you get the impression that there are many people interacting with your profile.  They want you to think that these messages are from "real women" who want to chat. But you will notice that the messages seem very generic and even worse, you get them before you even set up a profile.
This doesn't make any sense. How do these alleged women even know who they are messaging? They admit to the fraud right in the terms and conditions where they say they use Love Star profiles as a way to promote activity on the site. This is a sign that these are actually profiles run by employees of the site. They make you agree to this so you can't sue them after the fact. Once you start digging a little deeper, like reverse image searching the photos of the profiles, it's clear this is a scam.
You will find that these photos are littered all over the internet and are constantly used to scam people. Nothing about this site is legit and it's very dangerous to interact with this site or any of the sites they claim to be partners with.
They put a lot of effort into these sites because they work, and are convincing for the right type of audience. It's on you to be more aware of what's going on and to trust more reputable sites with your time and money.
Look, if you're trying to get laid, then start by hitting the gym and using this app. There, that's all you need to do – end of the story.