I love to meet and bang people whenever I can. In fact, that's what I do best. That said, you'll quickly learn that there are many sites out there that give you the impression that they're able to help you meet local people and eventually bang them. One that comes to mind is MeetBangNow. The MeetBangNow.com website is one that you need to avoid because it just doesn't do it for me and it doesn't do it for just about every other person that attempts to use the website. Here is why I shun Meet Bang Now and why you must stay the heck away from this nonsense.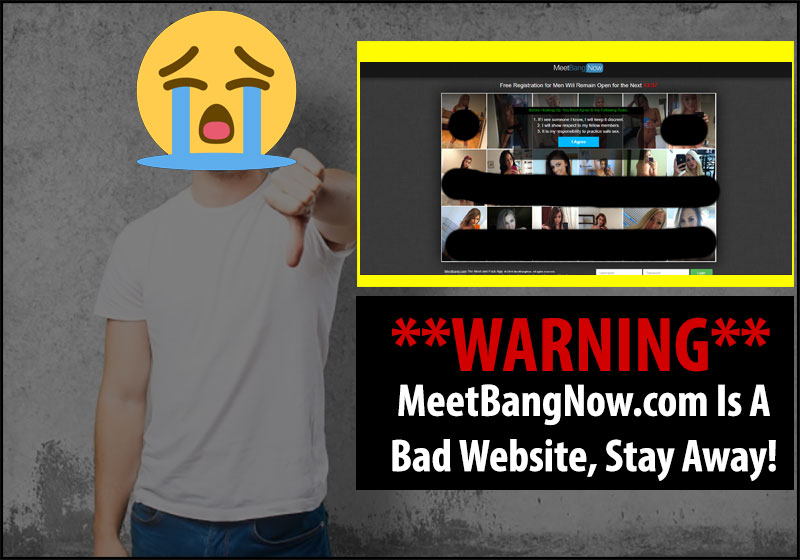 My Review Of MeetBangNow.com
Here's the full story with nothing left untouched, before you try to get your MeetBang login. This dating company is a sham and you'll soon realize why…
It truly is mind boggling the number of scams that are teeming across the internet. Everyone is used to getting hit with advertisements and unwanted links, but not everyone is aware just how complex these scams can get. In the dating site scam world, meetbangnow.com is one of the longest running and successful scam sites around. These types of places are eager to do whatever possible to get your credit card information. They'll do their best to look like a typical dating site, but you'll find once you try to engage with any feature they are quick to ask for your credit card information.
Fake It Til You Make It Approach
They do a good job at seeming legit because of how closely they mirror what you would see on an actual dating site. I'm talking all the bells and whistles of a real site, but it's not even close to that, simply put. You will see typical features like a search option, messaging, and video chat options. The price ranges from three dollars for a three-day subscription, up to a hundred and twenty dollars for a six-month subscription.
However, if you start to read the fine print, you will realize that this is where the scam first begins. You will get roped in by trying the three-day trial, but the trial automatically renews to forty dollars a month, at a recurring rate. This type of practice should already have you concerned.
But before that, you will notice just to sign up, meetbangnow.com asks you to agree to the use of "Love Stars" on the site. These profiles are, by definition, fake profiles. Oh and lots of sites use them too. Sites like FreeBangBuddies and Instasext are notorious for using Love Stars. The terms and conditions outline that these profiles exist for promotion and are run by their employees. The reality is, the only accounts that will ever interact with you are these types of accounts.
Why Love Stars?
You have to understand that they do this because the entire site is filled with fake content. Once you sign up, you will find all of these accounts are quick to message you desperate for attention. You don't have to have a picture up or fill out any information in your profile.
In what world would such beautiful women be desperate to hook up without knowing a single thing about you? This is happening because real people are not messaging you, they are computer bots. They are sending automated messages to both your inbox and your email account. Once you try to read or respond to these messages you will be hit with the prompt to upgrade your account.
Upgrades Equate To More Charges
The dangerous thing here is that the moment you upgrade, you are immediately added to a VIP membership that signs you up to two separate porn sites at recurring fees of about sixty dollars a month. That means you can get hit with a hundred dollar a month recurring fee just to message fake women.
All the pictures here are stolen, the cam girls are just prerecorded videos and you are not interacting with anyone real, and every notification you get is just the website trying to lure you into a membership. Stay far away from this site and all of its sister sites, they are all scams.
Conclusion: Meet Bang Now Is Really Bad, Stay Away!
From here on out, you're going to want to avoid the Meetbangnow.com website. It's perhaps the worst of them all and a huge disappointment for anyone looking to actually get out there and bang someone. The only thing getting banged here is your credit card, sorry boss! If you want to bang people, then you need to join the tried and true network – right here!