Today I'm here to tell you what I know about the one and only QuickFlirt.com. This review covers everything and then some. Find out if it's for you or if it's a total waste of time and money. I think you'll be glad that you read this review when you do because it paints the true story of all this nonsense.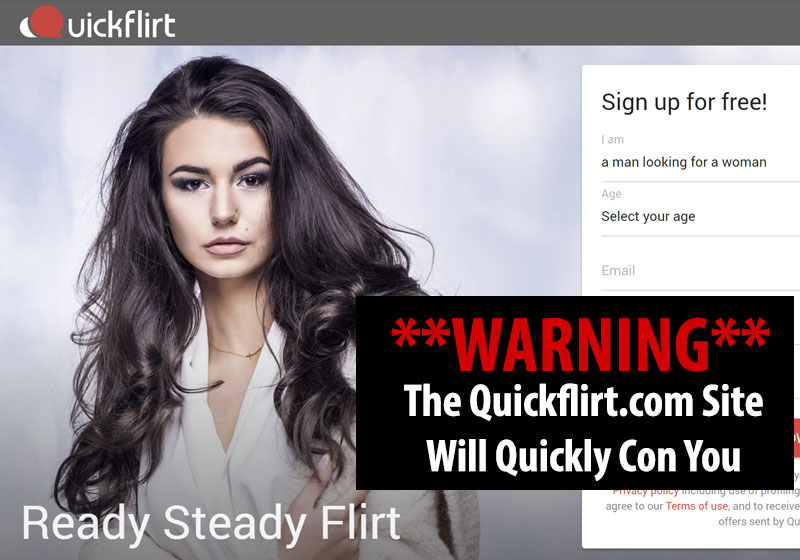 The Quick Review of Quickflirt.com
Quickflirt.com is one of those classic scam sites where it doesn't take much investigating to realize that nothing here really appears legit. It is tied to a wide network of scam sites (like this garbage) and has been up and running for a long time.
However, the fact that it is not out of business just goes to show how successful this site and those like it really are. There is always a consumer base that is desperate to be fooled, and they lower their guard when sex is involved. Sites like this create an entire fake universe so that that they can manipulate the emotions and needs of desperate men.
A hallmark of these type of sites is trying to appear as legit as possible on the surface. This normally means ripping off the style and design of actual legit dating sites. QuickFlirt tries to hide behind their features and layouts, but once you get into the site the scam is obvious.
Constant Fake Messages
This site claims to have a roster of hot women who are looking to hook up as soon as possible. This claims to be a place for people who just want to casually hook up. This is very enticing to many men, as they think they have found a place where hot young women want no strings attached sex. But how much sense does that really make? Even if you convince yourself all the women on the site are real, you will find it strange when your inbox is hit with dozens of messages before you even sign up.
Whether they come in the form of emails or messages directly to your inbox, it won't take more than a minute for you to find a dozen messages from hot girls looking to hook up. However, this is how the scam begins. The moment you want to read or respond to any of the messages, you are hit with the prompt to upgrade to a VIP membership.
This is a dead giveaway that the entire site is fraudulent. Nothing about the site is free and once you want to do the most basic interaction, they are asking for your credit card information.
Conclusion: This Site Fakes Everything to Steal Your Money
You have to understand that even if you don't put up a picture or set up a profile, there will be accounts saying how much they like you and want to hook up. You will get a variety of notifications stating that women have "browsed" your content. How is any of that possible if you have a blank account?
These messages are not even generated by real people. There are also a variety of accounts that are being run by the site itself or by third-party contractors. If you check the terms and conditions, they admit to the fraud right upfront. They will tell you that the notifications you get are generated by the staff to promote interaction on the site.
They will always say that there are some staff run accounts that are used to promote the site. This is a typical scam from these type of places and all of the sister sites they are associated with operating the same way. It's up to you to be more aware of this type of business practice and if you are, it will be easy to spot and avoid. If you're on the hunt for some quick hookups, then you'll get the most bang for your buck here.