I've made it perfectly clear that the Naughty Date website is not worth your time and money. You can read all that in my full review here. However, not everyone reading this is going to be lucky enough to read this first before joining. Which is why I'm sharing exactly how you can cancel your NaughtyDate.com account and delete your profile in a matter of minutes.
If you've found yourself on NaughtyDate.com, then you probably want to leave as quickly as you can. It's no surprise that this site basically just works as a scam. You'll never actually talk to anyone and you certainly won't be meeting up with anyone.
They use all of the same tried and true tactics that tons of other sites (like this crap) use to lure you into establishing a paid profile. After you fall for it, you're going to be on the hook for quite a bit of money and you'll be billed every single month. If you're not careful and paying attention, you could lose a lot of cash. My advice would be to stop what you're doing and cancel your membership ASAP. I've provided the steps to take if you want to accomplish this task.
But first, here's how the scam works:
The way the scam works is simple. Once you make your free profile, you're going to start getting messages from people. The thing about it is that you won't be able to respond to them. They'll just keep coming and coming and you'll have no way to stop them. The reason for this is where the scam comes in. They're not being sent by real people. They're being sent by fake profiles to make you think that there are people trying to talk to you. The second you pay to respond, they're going to stop coming and you'll be left alone with nothing but bots. That's why you should cancel as soon as you can and delete your profile for good!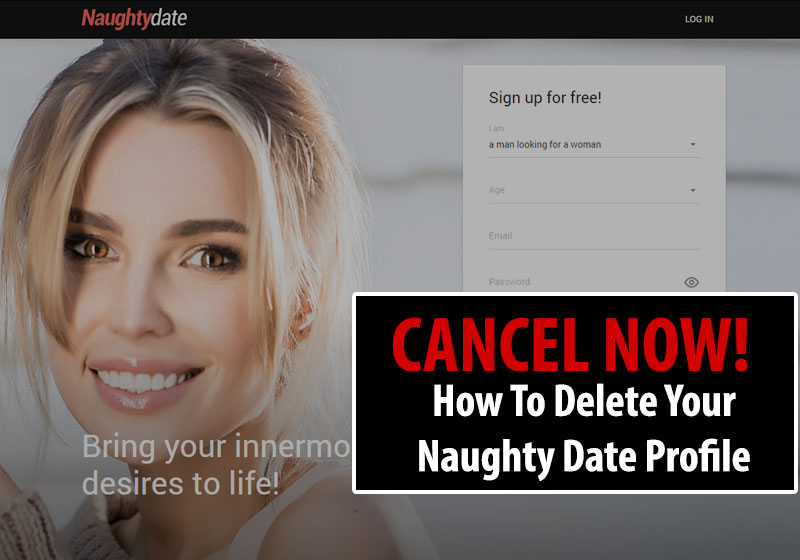 How To Delete Your Naughty Date Profile And Cancel Your Membership
In order to cancel, you're going to have to jump through a few hoops, but it's for the best. Here are the directions on how to do it below.
1. Log into your account.
2. Click on your profile picture. It's going to be in the upper right-hand corner of the page.
3. Now you're going to find yourself on your account page.
4. Scroll all the way down (to the bottom) until you see the "remove account" button.
5. Enter your password after you click it.
6. Now you're going to have to go to the bottom of the page again and click on the box for removing your profile and information from the site.
7. Pick a reason why you want to leave. Don't be afraid to type in your own and tell them you don't like to be scammed.
8. Now you have to confirm your decision. Click on the "Are you still sure you want to leave?" text.
9. Finally, click on "confirm removal" to be done with the site forever.
That's it. You're now free and clear of this terrible site. You won't be billed again and you can stop dealing with all of the fake messages.
Finding yourself on a scam site is nothing new, but it's never fun. If you start to notice any of the similar hallmarks on other sites, make sure you take action. You don't have to be involved in any site that you don't want to be. Keep you and your bank account safe by looking out for them and never getting involved with them. There are plenty of good, decent hookup sites out there that provide you with what you're looking for. All you have to do is find them – start right here.