Is Snapsex the ultimate hookup for sex network? Meh, I thought it was but soon learned otherwise. There are things that some sites do, that I simply do not agree with. While I give every dating site a chance, Snapsex.co wasn't what I was hoping for. Nor was Snapsex.club. This site has changed names a bunch of times.
But it looked so promising…If you get past bull smoke and mirrors on the home page, you'll realize the truth about this site. Snap Sex is trying to deceive you and it doesn't even do a very convincing job.
Snapsex.club Rundown And Why You Might Want To Stay Away
Unlike my favorite site, Snapsex website tries to play up its relationship with Snapchat even though no such relationship exists. They don't just come right out and say it because they'd be facing legal consequences.
However, they do go out of their way to make you feel like you're joining a site that's somehow connected to the mobile behemoth. Do not let the slick marketing fool you at all!
Needless to say, this isn't a good start and things don't exactly get any better from here on out once you start the process of signing yourself up. Here's my rundown of things based on what I learned about this website.
Setting Up Your Profile
The first thing that you're going to notice is that when you click the link to start your profile, you're automatically redirected to Easy Snap Sex, rather than staying on the site that you want to join. That's because these two companies are one and the same.
They've joined forces in order to rip off as many people as they possibly can and the best way to do that is by helping each other out. It's all well and good for the people who are taking the money, but the person who pays for their access isn't getting a single thing out of the deal.
Stupid Questions To Rope You In
The second thing that's going to raise the red flag is the fact that you don't have to actually put in any information to get started. All they ask of you is to fill out a silly questionnaire that has no merit at all. You'll be asked questions like whether or not you can keep a secret and other ridiculous things.
This is meant to get you all excited about the kind of people that you're going to be meeting inside. What it should really tell you is that your profile is meaningless because the site is a scam. If they were really trying to introduce you to people, then you'd have to write about yourself. It's just common sense.
Bot Time
Naturally, after you're all signed up, the bots come out to play. This is the last wave of attack that works far more often than it should. You'll start to get tons of messages from horny people who just want to get you inside their naughty bits, even though you still haven't posted a picture or spoken a single word about yourself.
The second that you try to respond to these messages, you're going to be brought to a payment page because your free profile just isn't good enough. If you're getting so many people trying to talk to you without a paid profile, think of how many will talk to you once you open up your wallet.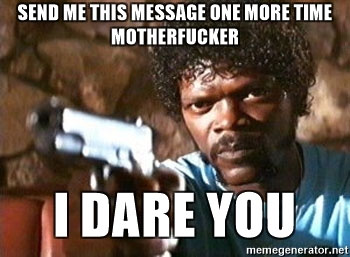 Upgrade Troubles
Naturally, nothing ever comes of your paid membership at the Snapsex Club. The messages immediately stop and you're left with nothing but a smaller bank account.
The site is a scam from the very beginning and no one should ever bother clicking on it. They don't deserve a single cent and should really be shut down immediately. Just stay far away from them.
Conclusion: Snapsex.co Is Really Bad 
I'm fed up with these marketing websites. This one is beyond bad and trying to associate with Snapchat is wrong. There is nothing good about this dating site and should you decide to join, you'll be making a big mistake. So, the bottom line is, do NOT join.