I love mature women. Not only those that are mature but those slightly aged as well and in their cougar or milf years. I'm typically an easy man to please assuming that the sites work like a charm. Well, WantMatures.com was on the other end of the spectrum in that regards.
Dating scams are like hydra heads, you cut down one and two more pop up in its place. They are like a swamp of lies and deceit that seems to have no end. The only thing you can do about them is to expose as many as possible, while at the same time making sure to do due diligence before committing to any such society. WantMatures.com is another one of these false dating sites.
It's owned by Northlock Holdings Ltd., which owns many more of these scam sites. If you do a quick search on the Internet, I promise, you'll quickly realize how much of a mess you're getting yourself into with this website and before it all starts too!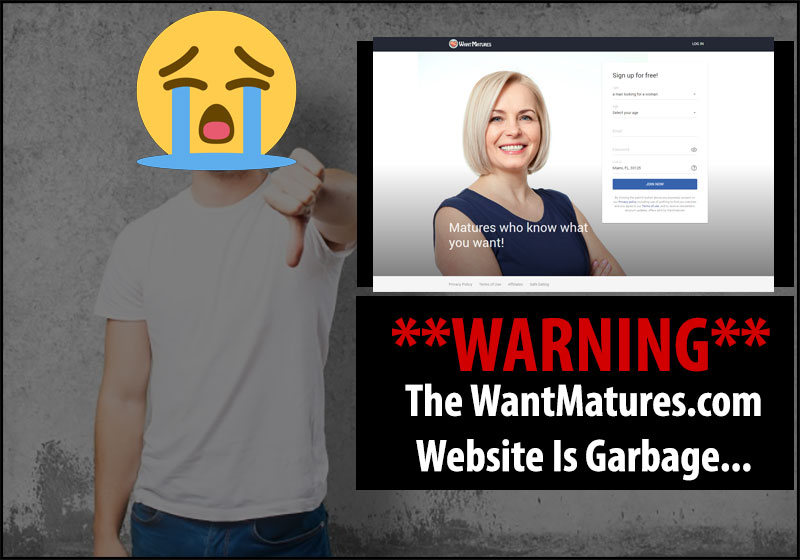 My Review Of WantMatures.com
The first thing you notice when making an account on this site is the inordinate number of women showing interest in you. You'll find yourself the recipient of "winks" from multiple women. The truth, sadly, is not as rosy.
These "winks" are not sent by actual women, but rather bots, which are automated computer programs with the sole purpose of hooking in a prospective fish. The reason the site goes to the trouble of making a man feel good about getting these winks is that it's only natural that the user would want to see who sent it.
No Talking
If they find the woman to be someone who gets their juices flowing, it is also only natural that they would want to talk to them. But here is where the catch comes. To talk to these women, one has to upgrade their membership, which necessitates the opening of their bank accounts. But the thing is, these winks are not real, and neither are the women behind them. The money is entirely wasted and goes safely into the hands of the site owners. The user can never meet or talk to these women, because, obviously, they don't exist.
Fake Winkers
Not only are the "winks" fake, but the messages a member receives are also bogus. A new member is always astonished when mere moments after their account is opened, they find themselves the recipient of multiple emails and messages from eager women wanting to hit it off. It doesn't matter if the person is a 70 years old grandpa or even a 100 years old tortoise, the messages would still come.
Why?
Because no real woman is sending them, and computers haven't developed enough to be able to assess the attractiveness of men. These fake messages once again try to lure you into upgrading your membership in the hopes of replying to the ladies, but the women will never write back because they don't exist.
Conclusion: WantMatures Is Fake And Must Be Avoided!
The site is a host of fictitious profiles created by people paid by the site. In fact, it's no different from this site here. These fake accounts are used to hook the men in with attractive pictures and the idea of getting down to explicit action. Evidence of this deceit can be easily found on the Terms and Conditions page of the site.
That's where they admit that they 'may, from time to time, create profiles which are created, maintained and managed by our employees'. Hence, fake. WantMature.com is just another one of ubiquitous dating scams that have made the internet their home. Obviously, it is as fake as fake gets, so stay far away.