Okay, this update is for the guys that like having sex with their friends or with friend watching. In case you're not familiar with the term; a "Devils Threesome" refers to three-way sex involving one woman and two men. Guys often fantasize about a three-way involving them and two girls, but when there are two guys involved, it tends to get a little more complicated. Before you judge, I want to confirm that it is possible to have a successful bang session with a couple of friends you meet online so don't click away just yet. Read the post first!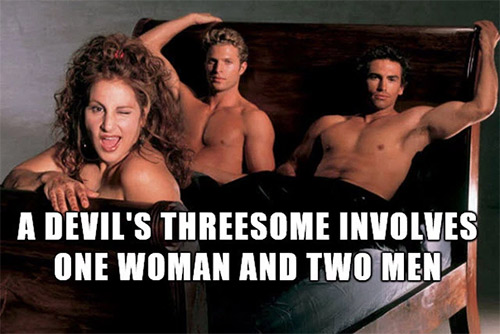 Things To Remember For A Devils Threesome
Here are 5 things that you should remember if you ever find yourself involved in a Devils Threesome.
1) Your balls might touch – I know, it sounds fucked up but it just might happen. You should be comfortable with your masculinity if you are involved in one of these threesomes. Your balls will probably touch the balls of another man at one point and you don't need to freak out. Accept that everyone will touch at one time or another during this sex act. If it bothers you, maybe you shouldn't get involved. It's nothing major and in the event that this bothers you, I suggest you stick to strictly banging girls online and meeting for typical one on one sex.
2) Be respectful to both your other partners – The position and who puts what where is commonly determined by the girl, but you should always try to give the other guy equal time. Don't hog the sweet spots for too long and allow him to have a turn. If you are respectful to your partners, it will be better for all of you. I actually had a Devils Threesome with a horny girl I met at my gym and she was very inviting and took care of all parties involved. A typical pleaser! I met her using a dating site then approached her after that.
3) She has to welcome everything you do – As I mentioned in number 2, how the devils threesome goes is commonly determined by the girl. She is the one that is going to have two different penises in her body, so she has to be comfortable with everything that is happening every step of the way.
4) Don't be shy, masturbate – How much you follow this tip depends on how she is handling things and how long you and the other guy last. You don't want to keep pumping away on her if it takes longer for you to ejaculate. Don't be afraid to give her a break and masturbate to elevate your arousal.
5) In the end, it's all about her – This is somewhat restating number three, but it's a sentiment that is surely worth mentioning again. For the most part, she is in control. Always pay attention to how she is feeling and make sure she is enjoying and welcomes everything that is happening. If she's not having fun, no one is having fun. While you're at it; try to take this sentiment a step further and do what you need to do to give her the most earth shattering orgasm she has ever had.