Lets say that you go on a casual date and you want to have sex with a girl. I'm here to tell you that hotel sex is your best option. I've been down this road on so many occasions I literally have lost count. I'm going to tell you why having hotel sex is fantastic and why you should do it in a hotel versus your apartment or house.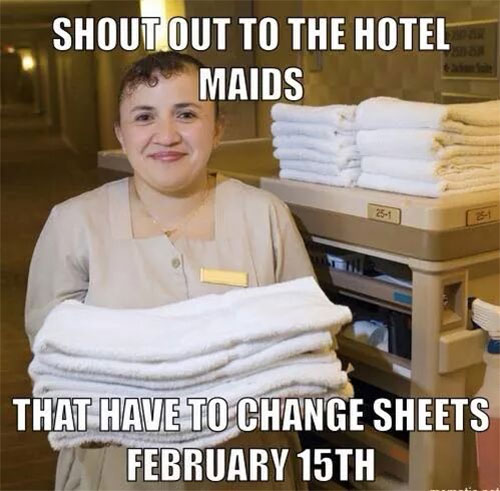 Reasons Why Hotel Sex Is Awesome
I love having sex in a hotel for a ton of reasons. These are just a few of the many reasons.
No Cleaning Up
This makes me sound like a pig but it's true. The fact that you can fuck and leave without cleaning up your mess is fantastic. I love taking a casual sex date to a hotel, banging the fuck out of her and then not even making the best. Just leaving the hotel room a mess and taking off. It's perfect almost every single time.
No Worries On Location
Hotel sex means meeting in a mutual location where one person doesn't feel less powerful than the other. This is a plus and can make women feel more comfortable about hooking up with you. Trust me, you want the girl you are trying to bang to be as relaxed as possible.
Awesome Shower Sex
Showers and bathrooms in high-end hotels are so fucking awesome. They are great for having one or two girls over to bang in them. Simply draw a bubble bath and get the woman you've been putting work in all night on completely naked and in the tub. Women love nice baths and showers. Not to mention it's super sexy and romantic.
24/7 Service
If you want champagne, strawberries, martinis or whatever you can have it within minutes. The 24/7 service that is offered at most of these luxury hotels is incredible and they can make sex with your date over the top.
The Beds Are Comfortable
Hotel beds are typically comfortable and huge. They are perfect for fucking on because the beds are neatly made with clean new sheets. I love this about hotel beds and it makes having sex in them incredible.
A Bar In Every Lobby
There is just about a bar in the lobby of every nice hotel. What does that mean? It's a haven for hot women that like to drink and potentially fuck. Not saying that you're going to meet a woman down there for sex. But it's a great spot to connect with someone that you have recently met on a dating site.
They Fix Situations
You know how Ray Donovan fixes things for people? Well, when something happens in a hotel room that isn't to your satisfaction, the hotel will go to great lengths to try and please you and your guest. I really love this about hotels and it's one of the many reasons I choose to stay in high-end places. I personally like to stay at either the Ritz, The W or the Wynn (if I'm in vegas). That's how to guarantee the best service possible.
These are just some of the reasons why I opt for having hotel sex every single fucking chance that I get. You should do the same.