Planning on going a date with someone you met online? Perhaps you really like them and you want to bang? I've got some more good date ideas that may just help you get lucky. You can always take her to watch a movie together or have a nice romantic dinner somewhere. But do you really want to be the typical guy that does just dinner? I mean, there's nothing wrong with dinner but if you're looking for some more ideas, I've got you covered…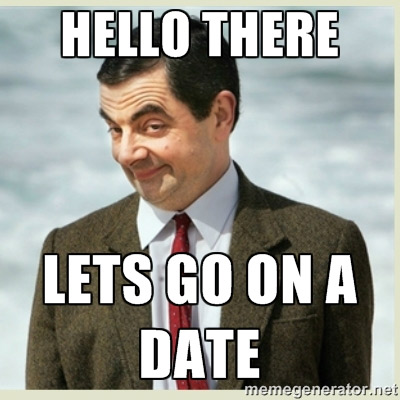 If you really want to impress a girl and get her wooing you all over, you should definitely skip the traditional movie/theater/romantic dinner ideas and look for ideas that are not so common. This will really surprise her and she will think of you as a unique and perhaps more creative/fun person to hang with.
Here are some unique but good date ideas that break the traditional barrier of dating:
Take Her Go-Karting
Go-Karts are extremely fun and couples race in them all the times. But very few dare take their girl on a date with Go-Karts in mind. When you try to impress your girl with your amazing driving skills and knock some guys off the course you'll give her something to laugh about.  When you finish, you will realize that she enjoyed the experience a lot more than she would have on a movie or a dinner. Getting her to really enjoy something is key to getting her to want to bang you.
Karaoke Night At A Bar
If you're looking for good date ideas, then you need to find the local karaoke bar! Karaoke is fun if both of you like music. Even if you don't particularly like music, hitting up the karaoke bar is still fun. It includes drinks, dancing and an excuse to make yourself look like an idiot. Both of you will have a nice connection going on when you try to sing with each other. Try to impress her with your vocals or go completely silly if you want to make her laugh. Karaoke nights are usually very fun and are extremely successful for dating. I've fucked a few girls after a night of bad singing. It doesn't matter how you sound on the mic. Trust me on that one!
Take Her To The Park
A local park is an excellent place to go on a date. However, it's important that you check with the girl to make sure she's a nature girl. If you both are nature lovers, going to nice park will really put you two in a good mood. Bring some wine, cheese, and other snacks. You can even head to the park at night if you dare. Find a good spot and lie down and watch clouds or stars at night. From there on you can try and put the moves on the girl you met online. After all, you both connected to fuck and there's a good chance she'll be down to fuck if you play your cards right!
Cook With Her
Now this is something very different but if you do it right, it can do wonders for you. Women really like a man who can cook. So why not hit her place or take her to yours for a good home cooking experience. Tell her you wanted to experiment with a new recipe and you would appreciate if she could help you out. This has worked well in the past for me. I've been in situations where I start cooking, crack a bottle of wine open and next thing you know I'm fucking the girl I invited over on my kitchen counter.
That should be plenty of good date ideas for you! Let me know if you need anymore and I'll be glad to help!