Who's up for hooking up with a Snapchat user? I know, stupid question, right! I guess what I should have said is who's not up for it to weed out the dummies. Anyway, all that being said, I've got something to share with you. It's not great but it's certainly not something that you want to ignore. The thing that I want to talk to you about is Snap Hook Up. I want to share all the reasons why you should completely ignore this site and never even attempt to visit the site.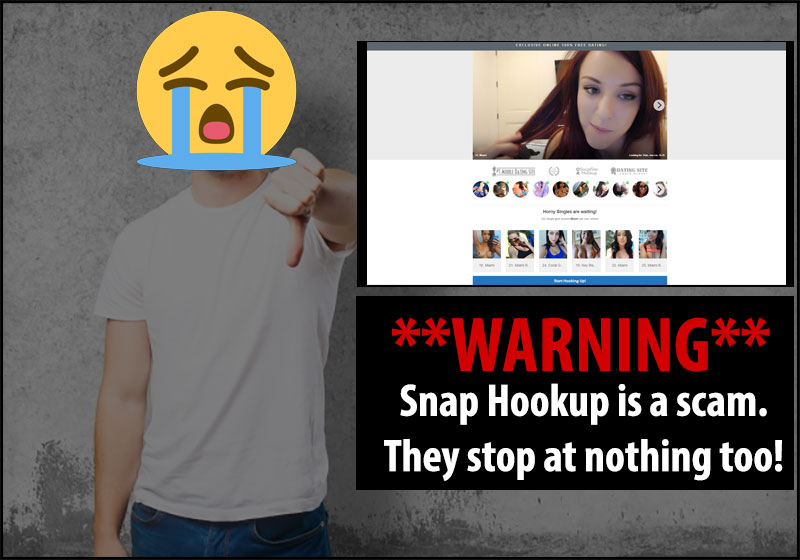 Snap Hook Up Investigation Reveals Everything
Okay, so what you need to understand is that this site is much slicker than the rest of the sites. Unlike other scam dating sites, Snaphookup does a pretty good job presenting itself as legitimate. The interface appears professional and the girls on the site are attractive.
However, once you get into the site and check out the terms and conditions, it's obvious on its face that this is a scam. The fact that the site works well doesn't mean anything when it's clear there isn't a single real profile on the entire site.
The Marketing Click Rotation
Your first red flag will be that Snap Hook Up is linked to a variety of other dating sites. This is a telltale sign that the site is a scam. It is typical for scam sites to be bundled in networks so that they have more opportunities at your financial information. These also give them the perception of being a real professional network instead of a scheme for your data. Partner sites like fapchat.com and bangtonight.com app are some of the most blatant and egregious scam sites around. This is a dead giveaway that this site is nothing but trouble.
Ripped Images To Lure You In
If you get lured in by the photos of the girls because they look like regular girls, it's because these images have been ripped from social media pages all across the internet. Many of the pictures are of amateur porn stars and cam girls who actually work on legitimate sites. This is a tried and true tactic of scam sites. They know that if people think there are "real girls" here, they will assume that this is an actual dating site.
Terms Tell The Story
The terms and conditions tell you right up front that all the accounts are not real. They have profiles that are labeled as "Love Star" profiles, which is their way of telling you it's a fake profile. Not a single love star profile is a real person, and these profiles make up the vast majority of the site. Other sites using "Love Stars" are the Instasext.com site, Justbang.com, and more! They all suck!
Fake AF Profiles
The fake profiles are backed up with fake messages and emails from bots. Once you sign up you will be hit with messages from all types of girls who claim to be in your area and ready to hookup. However, the messages are all generic and you'll receive them regardless if your profile is even set up or not. This is because all of the messages are computer generated and come from the site staff. There are no real girls reaching out to hook up with you.
They just want you to hand over your credit card information so that you can message these girls back. The entire scam is based around luring you into thinking hot girls are interacting with your profile and want to reach you. But once they get their credit card info, you will find that you can never actually interact or meet up with anyone. It actually explicitly states in the terms and conditions that you can never meet with the Love Star profiles. Which should be obvious because it's all fake.
Conclusion: Snap Hook Up Is Not Worth Your Time, Fake As It Gets!
Sites like snap hookup exist on web servers that are not secure and that feature fake profiles. They are filled with bots that will endlessly email and message you until you set up a paid membership. Then they will steal your money and sell your credit card information on the black market. You should stay far away from snap hookup and all sites connected to it. If you want to get laid, just use this site right here. #BOOM