I've been testing out the Together2Night.com dating site and after using it for some time, I'm finally ready to call it quits. Why you ask? Well, because it was awful, that's why! Assuming you join the site, you'll eventually want to delete your Together2Night account too. Trust me, I can almost guarantee that you'll want to cancel. I've covered the bulk of what needs to be done, what order it needs to be done in and how to do it along with some personal thoughts on all this.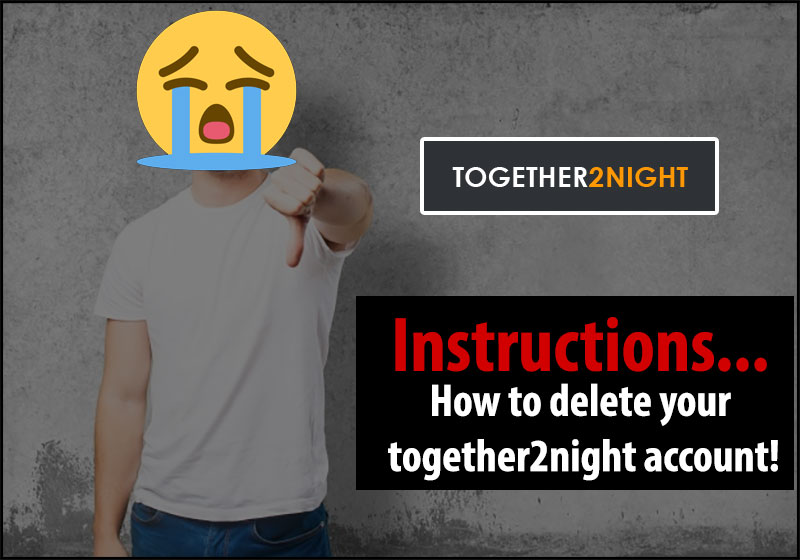 How To Delete Your Together2Night Account and Cancel Your Profile
There are lots of reasons that you should want to cancel your Together2Night subscription. Not the least of which is the fact that they use fake profiles to trick you into upgrading your membership. It's a simple scam they run that gets used all over the internet. Once you create your free profile, you're going to start getting messages from tons of profiles. The profiles themselves are going to look great. The people on them will be gorgeous and they'll be right in your area. The problem here is that they're totally fake and run by the site itself.
As you get these messages, you're not going to be able to respond unless you pay to upgrade your profile. From your perspective, you'll have a ton of messages from amazing people who really want to talk to you. That's why you're likely to end up paying.
Unfortunately, once you do that, you're going to realize that they never respond to you. That's because they never existed in the first place. They were created to scam you and that's just what they have done. Now it's time to cancel and walk away from the site. Follow the directions below to get it all handled.
How to delete your profile:
Log into the site just as you normally would.
Look in the top right-hand corner for the profile icon. This is where you want to click.
Once you see the drop-down menu, select "Account Settings" to get started.
Scroll down the page until you see "Remove Account" and give it a click.
Enter your password into the text box after it appears.
Choose the option to remove your profile and all of your information completely.
That's it, you're done. Your profile no longer exists here.
How to cancel your subscription:
Log into the site as you've always done.
Find the profile icon in the upper right-hand corner and click on it to get yourself started.
Once the drop-down menu appears, click on "My Settings."
Click on the "Billing History" text to move on to the next section.
Now all you have to do is follow the instructions on the page to cancel your subscriptions. It's really that easy.
That's all there is to it.
Conclusion: Your Together2Night Account Should Now Be Deleted For Good
You never want to continue paying for something that you're not using. This is especially true if you feel that you've been scammed. There are so many sites out there that try to take advantage of you (not this one here though). The best thing you can do for yourself is to make sure you investigate them before you hand over your money.
You've done a lot to earn it and no one should be able to trick you out of it. The next time to find yourself on a site that you don't want to be involved with anymore, simply look up how to separate yourself from it. It's usually a lot easier than you think as long as you know what you're doing.
How to cancel other memberships: