I love meeting women in town, especially those who cheat on their husband or boyfriend. I accomplish that task pretty easily and I do so with a little help from my online dating profile. Online dating has become a preferred dating method for singles all over the world. Dating sites have become so popular that they have expanded to affair dating. Now, even a man who is married or in a committed relationship can proudly browse dating sites that specialize in finding affairs for married men.
The most important part of finding someone to have an affair with on an affair dating site is having a top notch profile. You need to put thought into your presentation and make yourself desirable to kinky women. No one is taking a chance on a tool that sounds like a loser on their profile. Your objective is to be attractive enough to find females who are looking to hook up with someone cheating on his wife. Oh, must I remind you that this is all about NSA too? Not sure what I'm referring to, then read this. These tips I'm about to share should help perfect your marital affair game on the Internet for sure, so long as you do things right!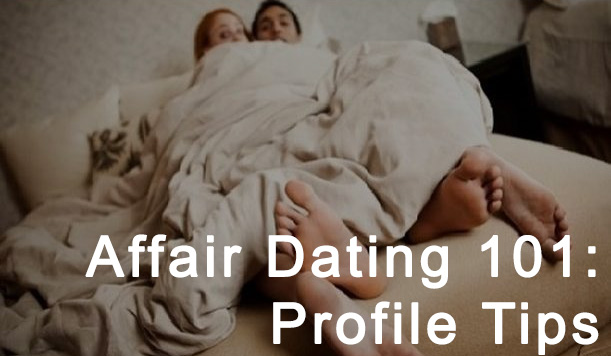 Affair Dating Profile Tips, Everything You Need To Know!
Here is how to fill out a proper dating profile for having an affair. The way I see it is you have two choices. You can try and figure things out on your own or you can take two minutes to read this, find out what I have to say and accelerate your success rate. The choice is completely up to you.
Posting the right picture is important and it's also important that you research the site you use and the security protocol before you upload a photo. Be sure that your profile is secure and not available to the public. Men will often fill out a profile and browse the site for a while without a picture before adding one later. When you do post a photo; make it a photo with your head slightly to the side without being a profile picture. Also, don't show any body parts. This is almost never attractive for a profile picture.
When filling out your basic profile information, you should first summarize who you are, what you're all about, and why the thought of having an affair excites you. Use your wit and whatever writing skills you can muster to explain that you want a steamy affair with a naughty woman. Let them know that you want someone that can bring passion and adventure to your life. Trust me, they're on a mission to do just the same.
The next step is describing what type of woman you are looking for and what you want out of an affair. You should describe both the characteristics of what a night of passion is for you and your idea of the ultimate mistress. You should keep it short and to the point, but be descriptive enough to get her excited to meet you. This is your chance to show what a good choice you would be to have an affair.
A good cheating site profile should show that you are an interesting person. It should also show that you have a sense of humor without being a clown. You should post pictures that show you are a desirable man without being too revealing. Mention what makes you exciting and a good prospect to have an affair with. It also doesn't hurt to mention briefly why you are looking for sexual adventures outside of your marriage. It may feel weird to put this information out there, but many women will appreciate your honesty and will want to give you what your wife can't.
Affair dating is a tough nut to crack. I want you to start by connecting with some women using a "bang app" and you'll be ahead of the curve from the get go. Good luck and stay thirsty my horny cheating friend!