Although I discuss casual sex more than conservative dating, I like to cover all aspects for my readers. Having been requested to provide information on Christian Mingle, I felt it was important to share how a few features work on the site. I received three emails about the Secret Admirer feature recently and wanted to cover that here today. So, here's what I know about Christian Mingle's Secret Admirer.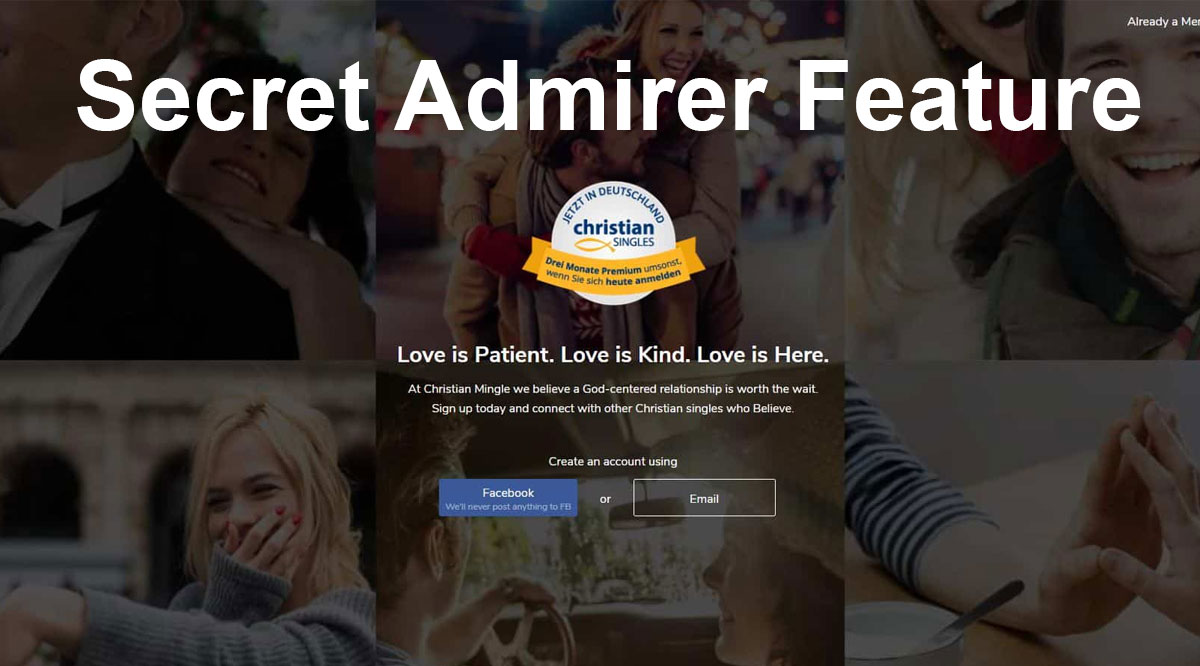 Everything You Need To Know About Secret Admirer On Christian Mingle (And More)
Anyone who's spent any time on a dating site has come across Christian Mingle at some point. For some people, it's just a curiosity. It's a site that lets Christians find and date other Christians and that just seems a little out of place in the modern dating landscape.
That's actually what makes it so valuable, though. In a world where most single people would sooner hook up with each other than enter into a relationship, this site works as a haven for like-minded people to find each other and seek out the long-term dating arrangements they need.
There Are Millions Of Users
Even if it seems like a niche site, the user data paints an entirely different picture. There are over 2.4 million monthly users and that number is only growing. People come from all over to sign up and seek out other Christians for serious dating.
More than the simple act of being a dating site with values, it has a lot of other reasons why people would flock to it. First off, it's well-known within church groups. Any member of a religious community is going to take the word of their church group over anyone else.
When the matter of a faith-based dating option comes up, it's always going to be Christian Mingle. On top of that, the site is just easy to use. It's a no-frills approach to dating that doesn't turn anyone off. All of the features are simple and easy to find.
You can sign up quickly and easily and be browsing before you even know it. It's even highly rated among online dating experts. Even if you're not finding out about it at church, you still have plenty of ways to come across it and love it.
It's Easy To Afford
No dating site is going to get very far if they make it too costly to be a member. That's another thing that makes Christian Mingle such an attractive site. You can sign up for free and browse the members all you want.
The only thing you can't do with a free account is read and send messages. If you want to do that then you'll have to sign up for the premium service. It's still incredibly affordable, though. Six full months of membership will only cost you $24.99 on average per month. Three months costs $34.99 on average and one month will run you $44.99.
They clearly want you to be a part of the site for as long as possible and that's why the longest option comes in as the most cost-effective. You just can't find dating sites that let you use all of their features for one cost as low as this one.
It's why so many Christians decide that this is the right site for them. You also have to remember that you're only going to be a member for as long as you're single. The better the site works, the less you pay in the long run.
Secret Admirer Reduces Your Risk
No matter how many different people you try to talk to, you're always running the risk of rejection. That's just the way that online dating works. You might end up feeling an attraction to someone who doesn't feel the same way.
It's a necessary evil when it comes to finding the right person. That's where Secret Admirer comes in. This is a game within the site that drastically reduces your chances of being turned down. The way it works is very simple. You're given a person and asked whether or not you want to be his or her secret admirer.
You can choose to respond with yes, no, or maybe. If you choose no, that's it. That person will be taken away and you'll be given someone else to decide on. If you click on yes or maybe, you have the chance to really connect with them.
If the person you choose also plays the game and gives you a yes then you'll both be notified. It's the perfect way to find out that you're both mutually interested in each other and ready to see just how far things can go between you.
Success Stories And A Movie
If you still have to be convinced that Christian Mingle might just be the best dating site option for you on the internet, just take a look at all of the success stories you can find on the site. There are thousands of them and they're all from real people just like you.
You'll be able to see that everyone is in the same exact space that you happen to be in. They're looking for their husbands or wives and they need someone that shares their same values. There's also a movie about the site.
If you have the time to watch it, it will give you an even better idea of how the site works. It's called "Christian Mingle" and it's a short film about finding love on the site. It was released in 2014 and follows the story of Gwyneth Hayden as she searches for love.
You can watch her transformation from a faithless woman on her own into a true Christian with a churchgoing husband. No matter what you think about rom coms, this one will keep you laughing and loving all night long.
Try Christian Mingle Right Now
You don't have to just wonder what the site would be like for you. You can sign up for it right now. Use the Secret Admirer game and find out just how many people on the site are interested in talking to you.
It's a great way to break the ice and you never have to worry about sending out a message that gets lost in the shuffle. It's a site that works for thousands of people and you can be one of them. Sign up and you're never going to want to go back to your other dating sites ever again.
Looking for more dating advice – check here.