I'm normally not one to jump from iOS to Android but I had no other choice this week. My iPhone died and I had to borrow my friend's phone for a couple of weeks. He had an Android and I gladly took it. Sure, I wasn't happy about using it at first, but once I got everything downloaded that I used it was a breeze. That's when I decided to use the Instabang Android App for the entire week. Let me tell you what I learned about it when doing so…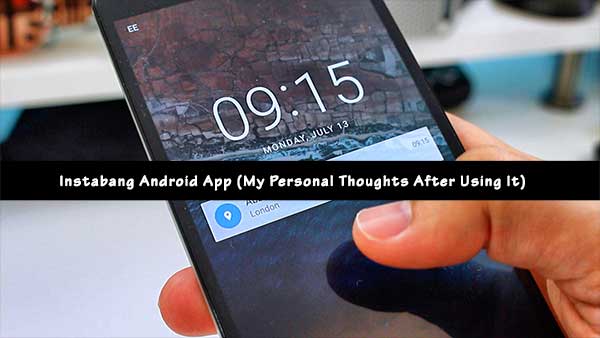 Things I Learned While Using The Instabang Android App on My Phone
I'll keep things straight to the point here and cover only what's necessary. Why?  Well, I want you to have plenty of time to use the app itself versus having me share my experiences all day long. I tend to get long-winded at times, sorry.
The first thing I want to say about the app is that it was simple to download. I think it took about 45 seconds to get the entire app downloaded my phone and get re-registered. I technically did not need to get reregistered but I decided to do so anyway. That process took a total of about four minutes. Once I was logged in, I was ready to rock and roll.
Next thing I noticed about using the app was how similar the navigation was to the iOS app. It was almost identical and at times it felt like the Instabang app was running smoother on the Android phone. Keep in mind, that is coming from a guy that eats, sleeps, and breathes this casual hook up dating site. I need and expect things to run perfectly or I flip the fuck out. Good news is, I didn't need to flip out using the Android phone.
Messaging via the phone was pretty bad ass. In fact, the text messaging in general on the Android is just short of spectacular. I know, I sound like a geek but it's so true. If you like to IM or text women on the regular, then you won't have a problem doing so using this app. In fact, I think I was able to connect with about 9 girls over the course of the week using the Android app. It works way better than Tinder too, that's for sure! One of the girls ended up becoming my latest FWB chick that I smash on the regular now.
I had to reach out to customer support one time while using the app and they connected and helped me out almost immediately. I had an issue with the phone and it was purely tech related. The support staff went out of their way to help me fix it so that I could properly use the app. Talk about top notch service!
The bottom line is that I was stubborn in not wanting to use the Android phone and when I did, it changed my perspective on using the Instabang app completely. I'll now recommend that anyone on this earth use the Instabang Android app if they want to meet girls to have more sex. Plain and simple, the shit works!