Talking to a girl online isn't rocket science. You find a girl online that catches your eye, she responds to your message, and you're off to the races in an online conversation. Your ultimate goal is to get a date with her. So how do you make that happen? Here are a few ideas to incorporate into your online communication to ensure she will agree to meet up with you on a date. Keep in mind that I've been on more dates than I can even count on my hands and feet. If I'm telling you to do something or suggesting it, then you should put forth a tiny bit of effort into trying it or at a minimum, acknowledging it! Here's a rundown of everything you need to know about talking to girls online.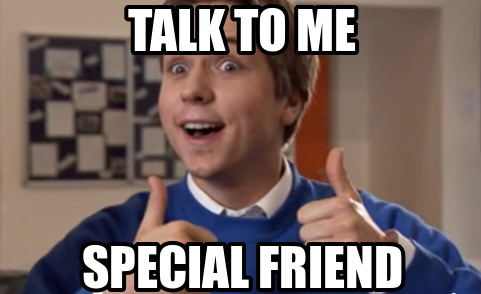 How To Talk To Girls You Want To Get With Online
Here are what I call the "Todd Basics" when it comes to chatting up a storm with horny girls using dating sites.
Skip the Story of Your Life
You don't want to hear every detail about her, and she doesn't want to hear it from you. Save that kind of stuff for the first date when you meet face to face. She probably won't remember the details anyways. For online chatting, keep it playful and fun, show off your quick wit and make her smile. Tell her that you love her smile and her eyes or whatever you find striking about her. Throw in a funny joke to make her laugh and keep her interested. Don't get into family stuff or anything of that nature. Keep it simple hot shot.
Don't Be Afraid to Flirt and Tease
She is probably getting tons of messages, so you have to be memorable and not seem boring. A little playful joking back and forth can be fun for both of you. Don't be a jerk, and you can use some emoticons to let her know that you are just joking around. If you are a nervous person who isn't as flirtatious in person, you can build confidence in this type of back and forth much easier online so you have that kind of rapport with each other when you meet up for the first time.
Don't Talk Sex Yet
Honestly, at this point, there's no need for you to really even mention having sex with her. She's just trying to feel you out at this point. You start throwing around terms like NSA, banging, D.T.F. or F.W.B. then you're bound to hit a brick wall. Don't do it, just yet.
Ask Her Out on a Date
That's ultimately what you're looking for out of this conversation, right? You can't spend forever trading messages. She's probably got a lot of guys sending her messages and if you wait too long you might never get your chance. She isn't looking for a pen pal, so don't spend days trading messages back and forth. She'll think you're only capable of texting and not have the balls to ask her out. Once you can tell she is enjoying the conversation, provide a few ideas for a fun date and ask if she would like to join you.
Be confident, funny, and charming and take the initiative to ask her out. That's all there is to it and soon you'll be meeting up with her for some fun times. If you don't have someone talk to then you're way behind. Check this page out for more info on how to increase your chances of connecting with girls.