Craigslist dating is some of the creepiest online ads that I've ever seen in my life. I've used a ton of online dating sites (both free and paid) and I've never come across creepier ads than those that I've encountered using Craigslist. Here's an ad I found that should give you enough reasons as to why you should do your best to avoid using it if you're trying to meet someone to bang.
Creepy Craigslist Dating Ad Posted on Valentine's Day
For starters, here's a snapshot of the ad that was published in a local Craigslist section in the Portland, Washington area.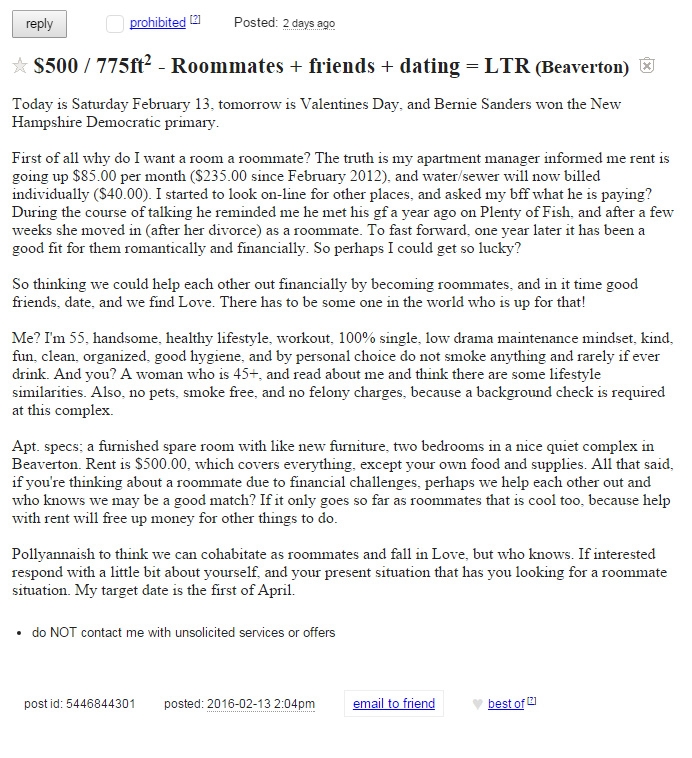 For starters, the ad was posted by a 55-year-old man looking for a roommate. His title indicated something along the lines of Roommates, friends, dating and some other creepy shit.
His ad stated that he was low maintenance and looking for a roommate of the opposite sex at around 45 years of age. He mentioned some shitty dating site called Plenty of Fish that literally never got me laid EVER! He then went on to talk about how it would be really cool to have a roommate that you become romantic with. This is really fucking distrubing, to say the least.
A couple of reasons why you want to avoid using Craigslist for any dating what so ever is because of the following:
Not Moderated – You literally have no idea (most of the time) what this person even looks like that's placed the ad. There's no verification and the site is basically not moderated at all.
No Guarantee – The site doesn't offer any guarantee that you'll be hooking up anytime soon. In fact, it's just the opposite.
No Support – If you come across a situation where a date or meet up with someone goes bad, there's really nothing that can be done about it. Because you're not using a site like Instabang, you're not going to get the stellar customer service that you normally would.
Honestly, if this isn't enough reason for you to never ever use Craigslist dating then I don't know what to say. I'd focus on spending time using better hook up sites that actually work instead of crappy Craigslist!
Related reading: